Inspira LIFE Program
At Inspira LIFE, we treat your loved ones like family.
Inspira LIFE Program

We understand that as caregivers you have a lot of health care options out there. Here's why Inspira LIFE is right for you and your family.
What is the LIFE Program? 
The Inspira LIFE program enables seniors to live independently and safely in the comfort of their homes while being closely monitored by a team of health care professionals.
Inspira LIFE is an innovative and comprehensive program now available to older adults and their families in our community. LIFE stands for Living Independently For Elders and currently serves all of Cumberland County and parts of Salem and Gloucester counties. Inspira LIFE is one of only four programs in the state of New Jersey. This program provides all-inclusive care to eligible participants 55 years and older that meet a nursing home level of care.
Inspira LIFE Participant's Eligible Services Include:
LIFE Center services (meals, exercise and fun activities)
Dental care
Vision care
Hearing care, including hearing aids
Podiatry
Medical and specialty care, including a doctor who knows elder care
Drug coverage (including over the counter drugs)
Transportation
Medical equipment and supplies
Help with meals and nutrition
Occupational and physical therapies and equipment
Support for caregivers and family members
Home and personal care
Mental health services
End-of-life care
Hospital and nursing home stays
Services such as lab work, X-rays and surgery
24-hour access to our care team
Other than emergency care, all services must be authorized by the care team. A provider within the LIFE network must deliver these services. Participants may be personally liable for the cost of unauthorized or out of network services.
How to Enroll 
It's easy! Our Enrollment Specialist will meet with you and your family to go over the program in detail. We guide you step-by-step through the application process and complete the paperwork for you.
We will do an assessment of your eligibility and schedule a visit to the LIFE center and a meeting with our integrated health care team. You will receive a medical evaluation and a customized plan of care just for you.
Who Is Eligible?
You are eligible for the LIFE program if you are:
55 years or older
Live in our service area in the following zip codes: 08314, 08348, 08312, 08316, 08349, 08322, 08321, 08352, 08343, 08323, 08353, 08344, 08324, 08360, 08098, 08327, 08361, 08318, 08328, 08028, 08302, 08329, 08062, 08311, 08332, 08071, 08345, 08094
If you meet a nursing home level of care 
A nursing home level of care means that you meet the state requirements for assistance with ADLs (activities of daily living) such as bathing, dressing, feeding, toileting or IADLs (instrumental activities of daily living) such as housework, managing money, transportation, taking medication
Can live safely in your home with the services we provide
Benefits of the LIFE Program
Caregivers and family members can rest assured that their loved ones are being cared for
LIFE participants have access to health care support 24 hours, 7 days a week
Relief for caregivers and family members
Elders stay in control of their lives and are able to continue to live safely in their homes
No more doctor co-pays
Transportation is included with the LIFE program
Who Pays for LIFE?
LIFE enrolls participants who have Medicare, Medicaid or opt to pay privately. There are no out-of-pocket charges if participants qualify for both Medicare and Medicaid or Medicaid only. For participants who do not qualify for Medicaid, there is a flat monthly fee. For services to be covered, participants must follow the care plan approved by the care team. Each individual care plan is developed through a partnership with the participant, their caregivers and families, along with the health care team. Participants may be liable for unauthorized services. Call our LIFE enrollment specialist at 856-507-2750 to learn more.
Our Success Stories
"I love it here! I have a lot of friends, everyone is so nice to me and I have recommended this program to my friends. Brandy, the social worker, saved my life when she found me my new apartment when I was being evicted from my home of 16 years!"
– Carol Rathbone, age 72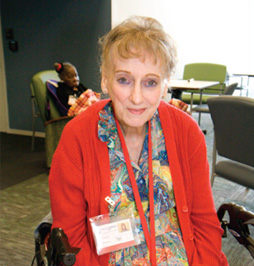 Medical outcomes from LIFE:    
Upon Carol's enrollment into our program she had high blood pressure
Her initial blood pressure was 169/78. Today, with close monitoring of her medication, her pressure is down to 133/63.
Social Services: Carol was being evicted from her home of 16 years. Brandy, our social worker, worked tirelessly to secure a new apartment for Carol so she could continue living independently.
"From the moment I entered this place it was like I already knew everyone. The staff is so friendly and they take care of everything for me."
– Dottie Mellor, age 90
Dottie joined the LIFE in August of 2012. Dottie is an original "Rosie the Riveter" who repaired airplanes during WWII. Before entering into the program Dottie was isolated and spent a great deal of time sitting at home watching TV. 
"I was becoming a couch potato," says Dottie. Prior to starting the LIFE program, Dottie was having trouble walking and getting around with knee problems that plagued her daily. Dottie frequently fell at home. She was told she may have to start using a wheelchair to get around. 
After just a short time working with the Therapy Department at Inspira LIFE, she was able to gain the strength and endurance she needed to not only avoid a wheelchair but to greatly alleviate her chronic knee pain. Dottie's posture has improved immensely; she now rides the therapy bike, does her weight training while on the exercise ball (at 90 years old!) and works out an hour or more when she's at the center.
Today Dottie reports she is stronger, happier and healthier because of the LIFE Program. "I recommend this program to all of my friends. I love it here!"
"These exercises are really helping my upper body. I can get out of bed easier, even when my legs are not working too well. I can give a mean hug now too! I have nothing but great things to say about the program. If anyone has any questions send them to me and I will tell them how great this establishment is. I highly recommend it! It gives me something to do; I look forward to coming here! And the therapy room does a fine job!"
– George Hudnall, age 77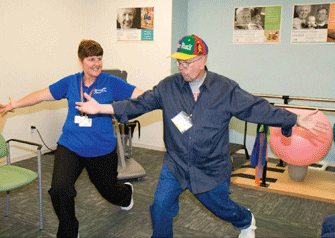 Medical Outcomes from LIFE:    
Upon enrollment, George had a hard time controlling his blood sugar, had high blood pressure, and found it difficult to manage his medications and Parkinson's.
Blood sugar: With assistance from dietary, his levels are controlled. He now has a glucometer and has received education on testing his glucose levels at home twice daily. George was delighted to report that his blood sugars have been running in the low 100's—much closer now to normal range.
High blood pressure: Home care has been instrumental in improving compliance with his medications. An RN visit is made weekly to fill his medication box, assuring that everything is taken correctly. The RN also answers any questions or concerns. 
Parkinson's: George's Parkinson's is now more controlled with medication compliance.
"Not only did they give me my life back, they've given me reasons to live!"
– Henry Glauert, age 63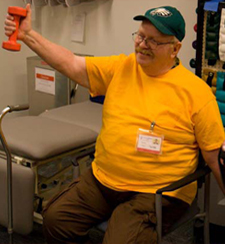 When Henry joined LIFE in April of 2012, he was having trouble caring for himself and managing his diabetes and cardiac problems. Since joining the LIFE Program, Henry suffered a fall at home from a low heart rate. He attributes his ability to get up off the floor and call for help to his physical therapy regimen and the strength and balance he has developed. 
"I call it pain and torture, but it saved my life," he says. 
Henry also has regained his independence. Because of the assistance he receives at LIFE, he was able to get his own apartment and safely live alone. Henry has lost weight and is eating right. His diabetes is stable and well controlled now, and most importantly, his overall attitude has improved—he is positive and outgoing. 
Henry has a new lease on LIFE!
"I love it! I enjoy it! It's making me strong and it helps me a lot. The therapy has helped my hands and I don't have cramps anymore. I want to be able to keep using my hands. I've been real good and my legs too, using the 'big step' machine. I like to use the arm weights too."
– Kenneth Smith, age 59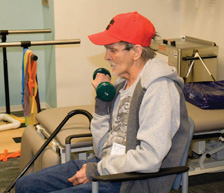 Medical Outcomes from LIFE:    
When Ken joined LIFE in March of 2012, his medical history included COPD, anxiety, depression and ulcers on his left ankle caused by an accident many years ago which triggered a gait dysfunction.
Ken had two ER visits and two admissions in 2012 and four ER visits and one admission in 2010. Since joining the LIFE program, he has not had any ER visits or admissions.
Ken's COPD has shown improvement with compliance and communication with his caregiver.
As the ulcers healed Ken was seen by a podiatrist who recommended a custom molded shoe to improve his gait. PT/OT worked closely with Ken making various adjustments to get the fit just right and to provide guidance in walking and positioning his foot. Ken's gait is almost 100% without a cane. We have gone from requesting a wheelchair back in April to ambulating without a cane in six weeks with the appropriate custom footwear.
Ken's anxiety and depression are being treated by our Psych Nurse Practitioner to give recommendations on dealing with mood changes and agitation which has helped Ken's overall disposition.
"I have lost over 50 pounds since joining Inspira LIFE. I can walk better and I feel more independent. The program has helped my self esteem. I can get dressed easier, steps are no problem and I get into the kitchen now. I made dinner last night!"
– Pat Johnson
"Since my mom has been coming to the center, she is more motivated and enjoys talking to all of the people there. She isn't lonely like she used to be at home. She's now able to take better care of herself at home and she's taking her medications. I don't have to worry that she isn't taking her medications when I'm not around. 
She gets showers at the center twice a week which helps me a lot because of my work schedule. Everyone at the center has been unbelievably helpful in assisting me to take care of my mom. Before my mom lived alone, she didn't want to do anything. She just sat in a chair for most of the day, only getting up to use the restroom. She has CHF and her legs would swell so bad that she could hardly walk and getting up and down by herself was extremely difficult. 
She didn't want help from anyone despite the fact she could not do things for herself. This really put a strain on family relations. My mom thought her only hope was to go into a nursing home. We didn't want that for her. The center staff helped convince my mom that being with family and learning to live independently again wasn't such a bad idea. I know it wasn't easy for them because my mom had given up on life. But they wouldn't give up on her. They helped to encourage her to move in with me so I could help the team care for her and so she wouldn't be alone. 
They got her the necessary equipment to make life easier. Now my mom's legs are a normal size. She has dropped 53 pounds. She gets up and down a lot easier. She gets in and out of the shower using a shower chair at home by herself. She does her own laundry at home. She is on a controlled diabetic diet; she takes her medications like she is supposed to. I just want to say on behalf of me and my entire family, thank you for giving our mother back to us!" – Pat's Daughter
"I love it here, everyone has been so nice. The doctors, nurses, home care—everyone has helped me. I am so glad I found this program!"
– Pearl Limburg, age 87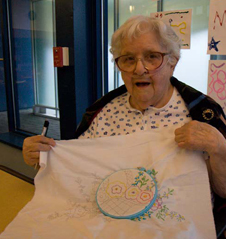 Pearl joined our program in March of 2012. She suffers from mild dementia, coronary artery disease, spinal stenosis, hypertension and GI issues. Prior to joining our program, Pearl suffered from chronic back and sciatic pain along with pain in her shoulder. Pearl received education and instruction from the physical therapist on stretching and exercises that she can do at home. 
Today she reports that she is pain-free most days and has seen a significant improvement in how she feels because of the quality of care she has been receiving at LIFE. Since being in the program, Pearl has lost weight, is now exercising and her blood pressure is controlled. "I love the doctors and nurses, they take such good care of me!"
Pearl enjoys coming to the center to socialize with her new found friends and, as a former sewing factory worker, she really loves doing her embroidery projects at the center.
Why Choose Inspira for Senior Health Care
There is nothing more important than choosing quality medical care for you and your family. At Inspira, we embrace the Patient-Centered Medical Home approach to providing total health care. That means we partner with you and your family to understand your needs, culture, values and preferences. Our team-based approach, led by your doctor, makes it easier for you to get the care, information and assistance you need.
Inspira LIFE Center
The Insira LIFE Center is one location where doctors, nurses and other health care professionals can deliver treatment and monitor changes in an individual's health in one convenient location.
Explore More Options
three
Learn more about our online scheduling and schedule an appointment with your primary care provider today.
We offer a wide variety of services at our many locations throughout New Jersey, including award-winning obstetrics and gynecology, cancer care and orthopedics.
World class care is in your backyard. Learn more about our local and nationally renowned physicians.