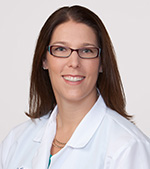 GLOUCESTER COUNTY, NJ (September 21, 2016) – Inspira Medical Group is pleased to announce Erica Milas, D.O., has joined its family medicine team, providing area families with comprehensive primary care.
Dr. Milas is now seeing patients in Mullica Hill and will soon be at Inspira's brand new Family Medicine office in Clarksboro.

Board certified by the American Board of Family Medicine, Dr. Milas provides area children and adults with comprehensive primary care. Dr. Milas graduated from the University of Health Sciences, College of Osteopathic Medicine in Kansas City, Missouri with a Doctor of Osteopathic Medicine. After medical school she completed a residency in family medicine at Resurrection Medical Center in Chicago, Illinois followed by a women's health fellowship at MacNeal Hospital in Berwyn, Illinois. Dr. Milas began practicing medicine in 2008 at Inspira's (formerly Underwood-Memorial Hospital) Family Health Center in Mullica Hill. She then spent four years at Virtua Family Medicine.

At Inspira Medical Group, Dr. Milas provides patients (five years of age and up) with individualized medical care for prevention and treatment of acute and chronic conditions.

Featured services, include:
Routine physical exams, including school/college and work
Preventive health care screenings and counseling
Management of chronic adult illnesses
Diagnostic testing
Full laboratory services
Minor dermatological procedures
Referrals to specialists when needed and continued coordination of care
Disease prevention, counseling and patient education
Focus on women's health
Routine gynecologic care
Lactation/breastfeeding education and support

Dr. Milas will begin seeing patients at a new office in Clarksboro in November. The new center, located at The Villages at Whiskey Mill, will feature a warm and welcoming environment, state-of-the-art exam rooms and extended hours.

Dr. Milas is now seeing patients at Inspira Medical Group's office located at 34 Colson Lane in Mullica Hill. For more information, please call the office at (856) 284-6500 or visit www.InspiraMedicalGroup.org.
About Inspira Health Network
Inspira Health Network is a charitable nonprofit health care organization serving communities across southern New Jersey. The network, which traces its roots to 1899, comprises three hospitals, a comprehensive cancer center, several multi-specialty health centers and a total of more than 100 access points. These include urgent care; outpatient imaging and rehabilitation; numerous specialty centers, including sleep medicine, cardiac testing, digestive health and wound care; home care and hospice; and more than 30 primary and specialty physician practices in Gloucester, Cumberland, Salem and Camden counties.

Together with its medical staff of more than 1,100 physicians and other care providers, as well as more than 5,700 employees, Inspira Health Network provides evidence-based care to help each patient achieve the best possible outcome. Accredited by DNV Healthcare, the network's clinical and support staffs are focused on providing quality care in a safe environment. For more information about Inspira Health Network, call 1-800-INSPIRA.