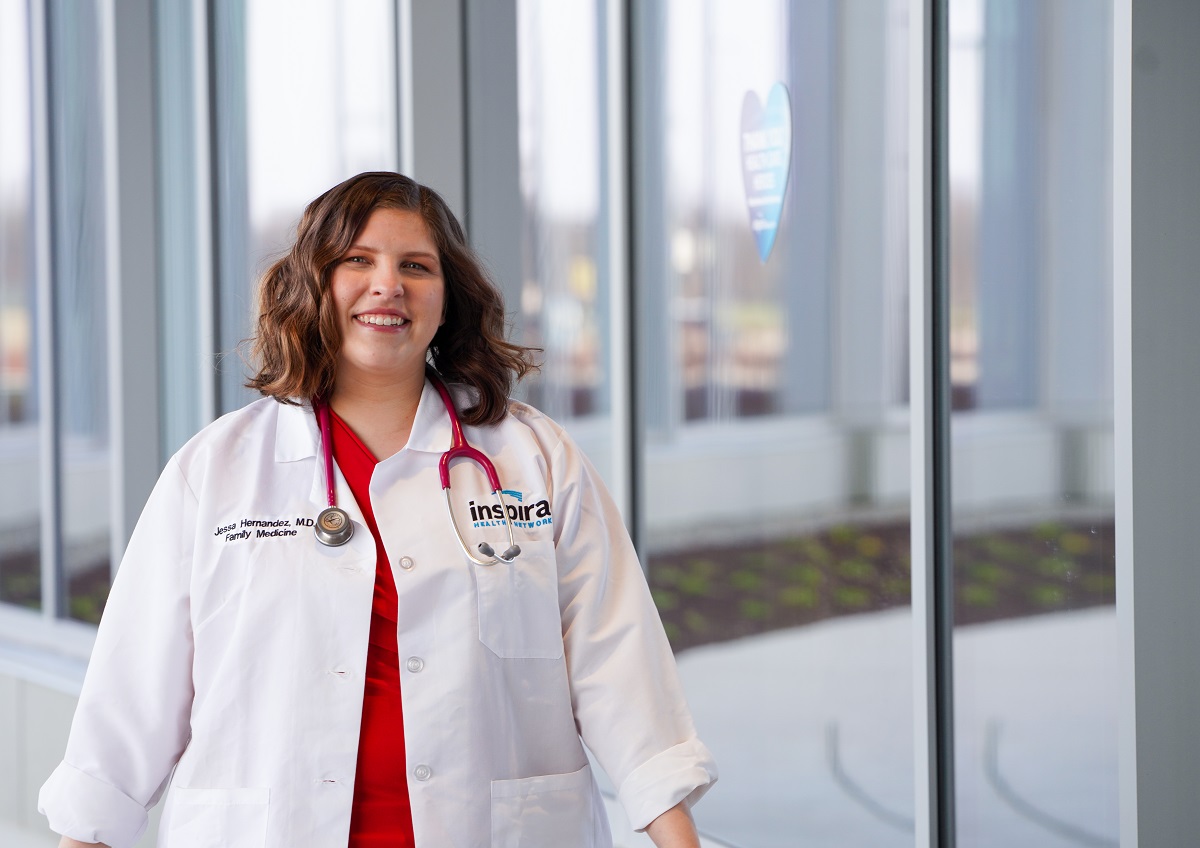 Jessa Hernandez, MD, is a first-year resident at Inspira Medical Center Mullica Hill's family medicine graduate medical education program.
When did you realize you wanted to pursue a career in medicine? 
What do you want to be when you grow up? Your first answer is usually what your parents do. My mom was a nurse. So, I said, "I want to be a nurse." And, that kind of evolved into, "No. I don't ... I don't think I want to be a nurse. I think I want to be a doctor." Since I was four or five years old, I've always answered, "I want to be a doctor."
Were there any particular moments throughout your childhood that solidified your dream of becoming a doctor?
When I was around 12 or 13, after I had moved here [Mullica Hill], I was part of a youth group at Gloucester County Community Church. We took a trip to a big Christian music festival out in Pennsylvania. I woke up the next morning and there was screaming in the tent next to mine. I walked into the tent and saw a girl having a seizure. What I remember most is having this immense sense of calm, which was really weird because… you would expect to panic. But, I had this sense of calm, like, "Okay, you know what to do. So, you know that she shouldn't be laying flat because she would be at risk of aspirating. You know that she shouldn't have anything around her because she could get hurt." So, I just cleared the area, turned her on her side, and waited for the adults to come. I just felt so right in that moment. She was later taken to the hospital where she was diagnosed with epilepsy.
During that same trip, there were a few other instances where I took on the role of a "first responder." That trip really solidified for me that, "Yes, I want to be a doctor. I can actually do this. This isn't just a childhood dream anymore. This is something that I really want to pursue."
How have you blended your medical education with your passion for art?
I've always kind of been an artist. I've loved working with my hands. In college and medical school, I used it for wellness. I used art as a way to escape and relax… There's so much information that you have to learn as medical student; you have to find a way to ground it in something that you already know. If you really take the time and ground what you're learning in something that you know, it sticks in your brain. I know how to crochet. I know how to draw. So, taking what I'm learning and putting that into a framework of these skills that I already had helped me to keep the information I was learning in my mind. 
During my cardiology course, I crocheted the heart. During pulmonology, I did the lungs. And, I took this journey through the entire human body, just teaching myself the anatomy. In a way, crocheting taught me, too. It taught me to be flexible when something goes wrong. If you make a wrong stitch or you've gone too far on your line, you can take it out, reevaluate, and try again. That's something I've carried over into my medical career – if something is not working for the patient, if something is not working for me, I take a step back, reevaluate, and come at it again.
How does Inspira challenge you to be a better health care provider? 
I think Inspira really does challenge us to be better physicians because our training not only takes into account all of the intellectual properties that we have to know, but it really pushes a humanistic value on how we deal with patients, how we are with people. The first step in providing care is to be kind to your patients, to really listen and understand what's going on. I feel like Inspira has really pushed me to be that person.
What are the benefits of having a place like Inspira in this community?
I think it's a great addition to the community that we have a place that's nearby that we can go where we have people that we trust in our community, who are really from our community. A lot of physicians end up staying near where they do their residency because they just kind of fall in love with the community. Having a community-based teaching hospital in the area is something that helps us give back to the community. Our community is coming to a hospital that has residents, where the next generation of physicians are being trained.
How does it feel to be where you are today?
To be where I am, it feels fantastic, phenomenal. It feels like a true gift to me that I get to be part of this community. I grew up in Mullica Hill. I currently live in Swedesboro. I'm back in the same place where I went to high school, and get to see all of the people that I grew up with who are now in their own professional careers. I see some of them around the hospital. I see lots of nurses. I've seen physical therapists. It just feels like such a, a gift that I get to be a part of something that I've seen grow, something that I've seen change for the better—to be a part of something new and help build something new for this community.
How do you see yourself growing with Inspira throughout your medical career? 
I want to continue to grow with this institution, to finish out my residency, to establish roots in the area, to become one of the physicians that make Inspira great. I see Inspira growing in the future, not only in the number of locations that are available, but also in the number of residencies that they can offer and the amount of education and training we can provide. Inspira has a lot to offer us. I would love to see new residency programs that will teach even more upcoming physicians to be the best physicians that they can be.