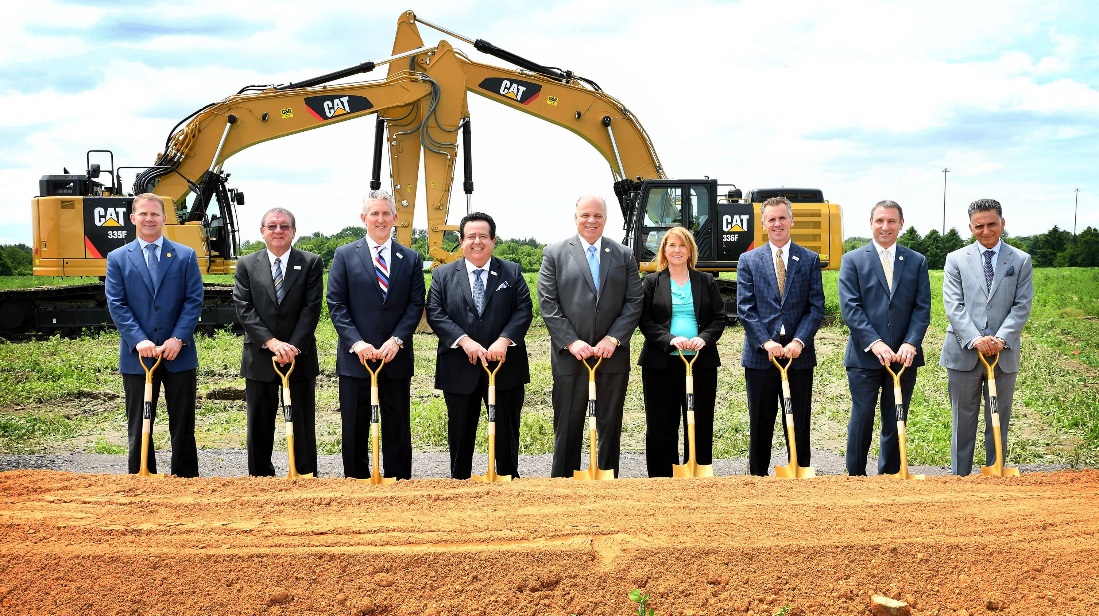 MULLICA HILL, NJ (May 24, 2017) – Inspira Health Network broke ground today on a new state-of-the-art medical center in Mullica Hill. The South Jersey-based health network began planning for the new hospital nearly five years ago and received final approval from New Jersey Commissioner of Health Cathleen D. Bennett in March. The construction phase is scheduled to begin in June and take approximately 24 months. Inspira Medical Center Mullica Hill is expected to open in late 2019.
"We are very pleased to have received so much support in bringing a new hospital to Gloucester County. Inspira Medical Center Mullica Hill will ensure that our network will be able to meet the growing and changing health care needs of Gloucester County residents—with high quality care and convenient access—for decades to come," said John DiAngelo, president and CEO of Inspira Health Network.
The $349 million medical center will be located just east of the intersection of Route 322 and Route 55, adjacent to the West Campus of Rowan University. The cost of construction, equipment and furnishings will be paid from Inspira's reserves, dollars raised through philanthropy and the issuing of bonds.
The new hospital will feature:
204 all private patient rooms;
the latest in medical and communication technology;
home-like birthing suites;
a pediatric emergency department with adjacent inpatient unit;
a comprehensive cancer program;
emergency angioplasty for heart attack patients; and 
Smart Room technology designed to enhance patient safety and the patient experience.
"Today's groundbreaking is a great day for Gloucester County and all of South Jersey," said New Jersey Senate President Steve Sweeney. "I believe Inspira Medical Center Mullica Hill will ensure that the people of Gloucester County continue to be provided with the high quality medical services they need today and long into the future. This new hospital in Harrison Township, and Inspira's commitment to maintaining a presence in Woodbury, will give residents greater options and accessibility when it comes to their well-being."
"Building a new hospital in Gloucester County enables Inspira to deliver the most up-to-date services, equipment and technology so it can provide the highest quality of care," said New Jersey Health Commissioner Cathleen D. Bennett. "The plans for this new hospital demonstrate Inspira's commitment to patient-centered care."
The new medical center will be approximately 467,000 square feet and sit on a 100-acre parcel that will allow for additional growth and complimentary services over time. A medical office building is already being planned. Construction jobs will peak at approximately 400 during the height of construction. Upon opening, about 1,400 employees will work at the new hospital.
Inspira's focus on healthier communities and efforts to partner with a broad array of organizations are bringing about positive changes for individuals and families in the region. From supporting efforts to make healthy foods more available and affordable, to helping reduce the supply of opioids in the community, Inspira regularly reaches out into the community to address health and wellness issues that impact the region.
As inpatient care from Inspira Medical Center Woodbury transitions to the new hospital, a number of clinical services, including an emergency department, medical imaging and behavioral health, will continue to be provided in Woodbury. Several non-clinical departments will also be located on the Woodbury campus. Inspira leadership continues to partner with the City of Woodbury and the Gloucester County Improvement Authority to create a redevelopment plan for the Woodbury campus.
For more information about Inspira Medical Center Mullica Hill, visit InspiraHealthNetwork.org/MullicaHill. 


About Inspira Health Network
Inspira Health Network is a charitable nonprofit health care organization serving communities across southern New Jersey. The network, which traces its roots to 1899, comprises three hospitals, a comprehensive cancer center, several multi-specialty health centers and a total of more than 125 access points. These include urgent care; outpatient imaging and rehabilitation; numerous specialty centers, including sleep medicine, cardiac testing, digestive health and wound care; home care and hospice; and more than 30 primary and specialty physician practices in Gloucester, Cumberland, Salem and Camden counties.

Together with its medical staff of more than 1,100 physicians and other care providers, as well as more than 5,700 employees, Inspira Health Network provides evidence-based care to help each patient achieve the best possible outcome. Accredited by DNV Healthcare, the network's clinical and support staffs are focused on providing quality care in a safe environment. For more information about Inspira Health Network, call 1-800-INSPIRA.