For the first time in nearly 45 years, a crowd gathered to celebrate a ribbon cutting for a new hospital in Gloucester County. Inspira Medical Center Mullica brings the latest in medical and communications technology to a 100-acre parcel adjacent to Rowan University's West Campus. With 210 private rooms, and a complete suite of Smart Room technology that is new to the region, the 465,000 square foot hospital will enhance clinical quality, safety and the patient experience.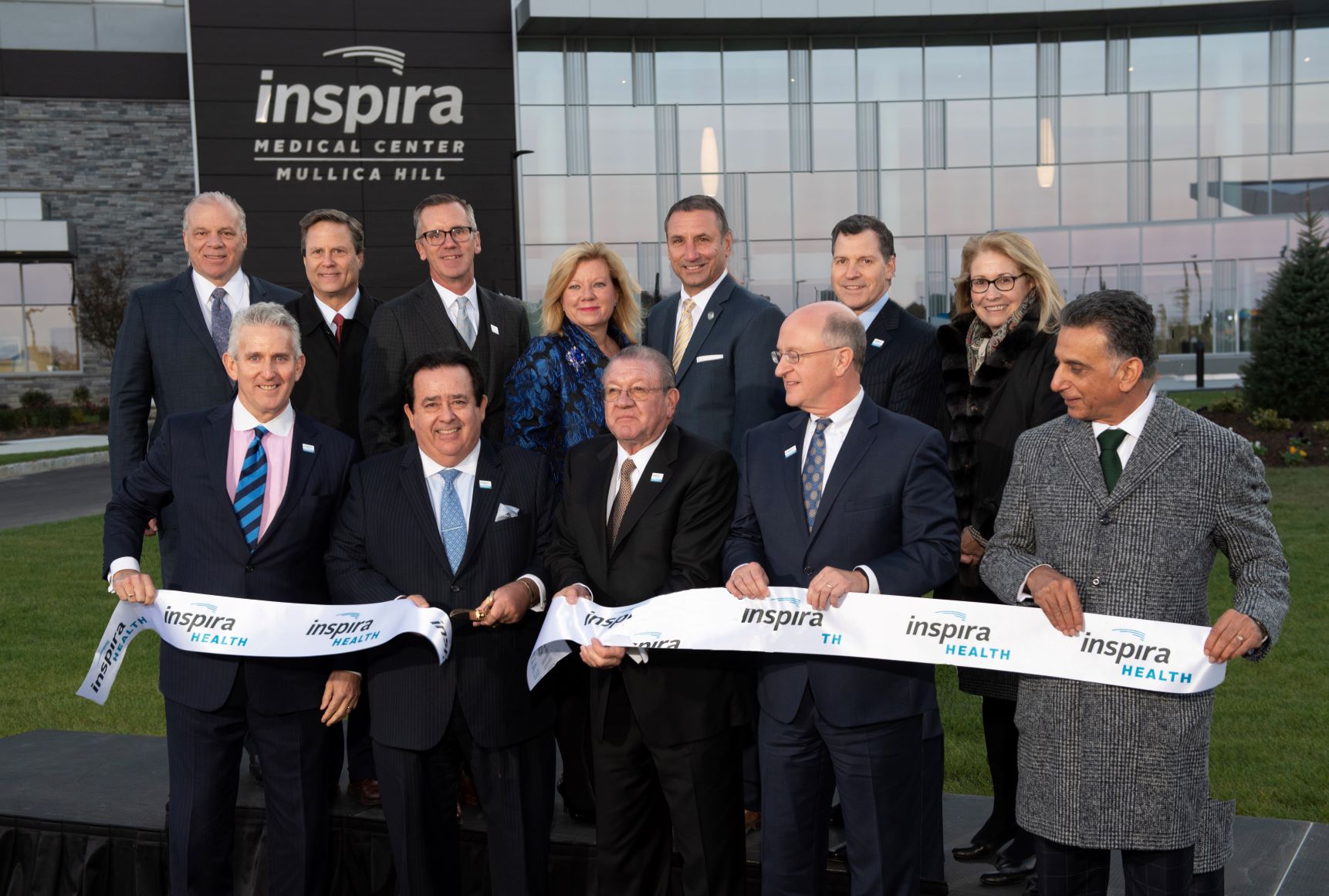 "This is a tremendous day for South Jersey, Gloucester County and our health system," said John DiAngelo, president and CEO of Inspira Health. "With this new hospital, our commitment to providing exceptional care for our community, in our community reaches a new level. We are excited to bring the latest in health care to the people of Gloucester County and surrounding communities. Our physicians and care teams are focused on clinical excellence and patient safety as they prepare for the move into this state-of-the-art medical center."
Slated to open in December, Inspira Medical Center Mullica Hill will be home to a: 
Modern Home-like Maternity Center, featuring 15 labor – delivery – recovery – post-partum suites 
62-room Emergency Department, including dedicated pediatric and senior ERs 
Cardiac Cath Lab (including bi-plane technology) with Emergency PCI – angioplasty and stenting – for heart attack patients 
Digital Health Records for enhanced coordination of care and patient safety 
State-of-the-Art Surgical Suites, including two robot-assisted surgery systems and hybrid OR for advanced vascular procedures
The hospital's Smart Room technology comprises a suite of innovative communication and clinical systems that will enhance communication between members of the care team and patients; support patient safety; and elevate the hospital experience. The suite includes technology that automatically places patient vital signs into the electronic medical record; virtual guard rails that add an extra layer protection for patients who are at high risk of falls; real-time identification of all staff members who enter a patient room; and easy access to the internet as well as a wide assortment of patient education and entertainment programing. In 2004, Inspira opened its medical center in Vineland, expanding services and raising the level of care it provides to the greater Cumberland County region. With this experience as a guide, Inspira has again set out to deliver a facility that will allow its highly skilled physicians and employees to provide a higher level of care for the residents of Gloucester County and surrounding communities.
"Meeting the growing and changing needs of our communities is central to our mission," said Michael McLaughlin, chair of the Inspira Health Board of Trustees. "From the earliest discussions back in 2013, the board and senior leadership have been laser-focused on creating a new hospital that will elevate the delivery of health care, with an emphasis on leveraging new technology to enhance convenience, safety and the overall health care experience."
"The support from the community and the effort that has gone into planning and constructing our new hospital are truly awe inspiring, said Gary Galloway, chairman of the Inspira Hospital Board. "Our teams listened to community members, patients, employees and physicians to ensure that this new hospital will meet the current and future needs of our region. Perhaps equally important, our new hospital will be a beacon of hope, healing and comfort to all of those we are privileged to serve."
Inspira broke ground on its new hospital in March of 2017. In 2018, construction began on an adjoining leading-edge cancer center. Approximately half of the 100-acre parcel remains available for future projects, which may include medical office buildings and education facilities. Upon the opening of the hospital, Gloucester County will be home to an Eds and Meds hub that will continue to elevate education and medical care throughout the region. The Inspira Innovation Center opened in Rowan's South Jersey Technology Park in 2017 and has fortified an excellent working relationship between the two institutions. The new medical center's proximity to the Rowan campus will open new opportunities for education, research and innovation. Inspira Health traces its roots back to the late 1800s. Today, Inspira provides more than 160 access points in five South Jersey counties. With the opening of Inspira Medical Center Mullica Hill, Inspira will operate two of the seven newest hospitals in the state.
About Inspira Health:
Inspira Health is a charitable nonprofit health care organization and a regional leader in physician training, with approximately 160 medical residents and fellows in nine nationally accredited specialty programs. The system, which traces its roots to 1899, comprises three hospitals, a comprehensive cancer center, several multi-specialty health centers and a total of more than 150 access points. These include urgent care; outpatient imaging and rehabilitation; sleep medicine labs; cardiac testing facilities; digestive health and wound care centers; home care and hospice; and more than 30 primary and specialty physician practices in Gloucester, Cumberland, Salem, Camden and Atlantic counties. Together with its medical staff of more than 1,100 physicians and other care providers, as well as more than 5,800 employees, Inspira Health provides evidence-based care to help each patient achieve the best possible outcome. Accredited by DNV Healthcare, the network's clinical and support staffs are focused on providing quality care in a safe environment. For more information about Inspira Health, visit www.InspiraHealthNetwork.org or call 1-800-INSPIRA.