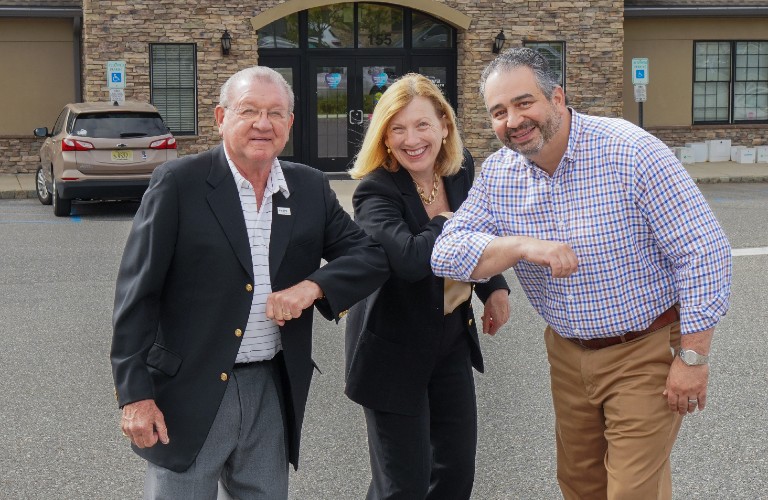 Donations support organization's cancer services including financial assistance, clinical and support services
Vineland, NJ (May 13, 2022) – With its recent donation of $50,000 to the Inspira Health Foundation, the Bill Bottino Cancer Foundation has now given more than $550,000 in support of Inspira Health's Cancer Services. The generous gifts from the Bottino family support a dedicated fund that provides patients with financial assistance for essential non-medical bills such as food, household supplies, and utilities. Funds from the Bottino Cancer Foundation also support clinical and support services provided at Inspira's Frank and Edith Scarpa Regional Cancer Pavilion in Vineland.
"The generous philanthropic support of the Bottino family has touched the lives of families throughout South Jersey that have faced a diagnosis of cancer," said Peter Kaprielyan, chief development officer, Inspira Health Foundation. "Their desire to assist our patients and families, and to reduce the burden cancer places on our community is truly an inspiration for all of us."
The Bill Bottino Cancer Foundation was officially established in 2016, following years of the Bottino family's active and generous support of the locally-based Barbara Cook Cancer Foundation. It was named in honor of the Bottino family patriarch, who lost his life to cancer in 2006. Since 2011, the Foundation has made 11 large donations in support of Inspira's Cancer Services, while also supporting other local cancer programs.
For more information about Inspira Health, please visit InspiraHealthNetwork.org or call 1-800-INSPIRA. To stay connected with Inspira announcements and work being done in the community, please join the conversation on Facebook and Twitter. Inspira is proud to be the Official Health Care Partner of the Philadelphia Wings professional lacrosse team.
About Inspira Health
Inspira Health is a charitable nonprofit health care organization and a regional leader in physician training, with approximately 200 medical residents and fellows in 13 nationally accredited programs at its hospitals in Vineland, Mullica Hill, and Elmer. That number will grow to more than 250 by 2023.
The system traces its roots to 1899 and comprises three hospitals, two comprehensive cancer centers, eight multi-specialty health centers, and more than 200 access points. These include urgent care; outpatient imaging and rehabilitation; sleep medicine labs; cardiac testing facilities; behavioral health, digestive health, wound care centers; home care and hospice; and more than 35 primary and specialty physician practices in Gloucester, Cumberland, Salem, Camden and Atlantic counties. Additionally, Inspira EMS services six South Jersey counties.
Inspira's 1,300-member medical staff and 6,800 employees provide an unwavering commitment to delivering a superior patient experience at every point of the journey. Technology and innovation investments provide a robust provider directory and a range of services including online scheduling and virtual visits for both primary and specialty care providers. With a commitment to multi-channel digital access, Inspira is able to meet consumer demand for self-service and personalized care options.
Accredited by DNV Healthcare and committed to the principles of high reliability, the system's clinical and support staffs are focused on clinical excellence and patient safety. For more information about Inspira Health, visit InspiraHealthNetwork.org or call 1-800-INSPIRA.