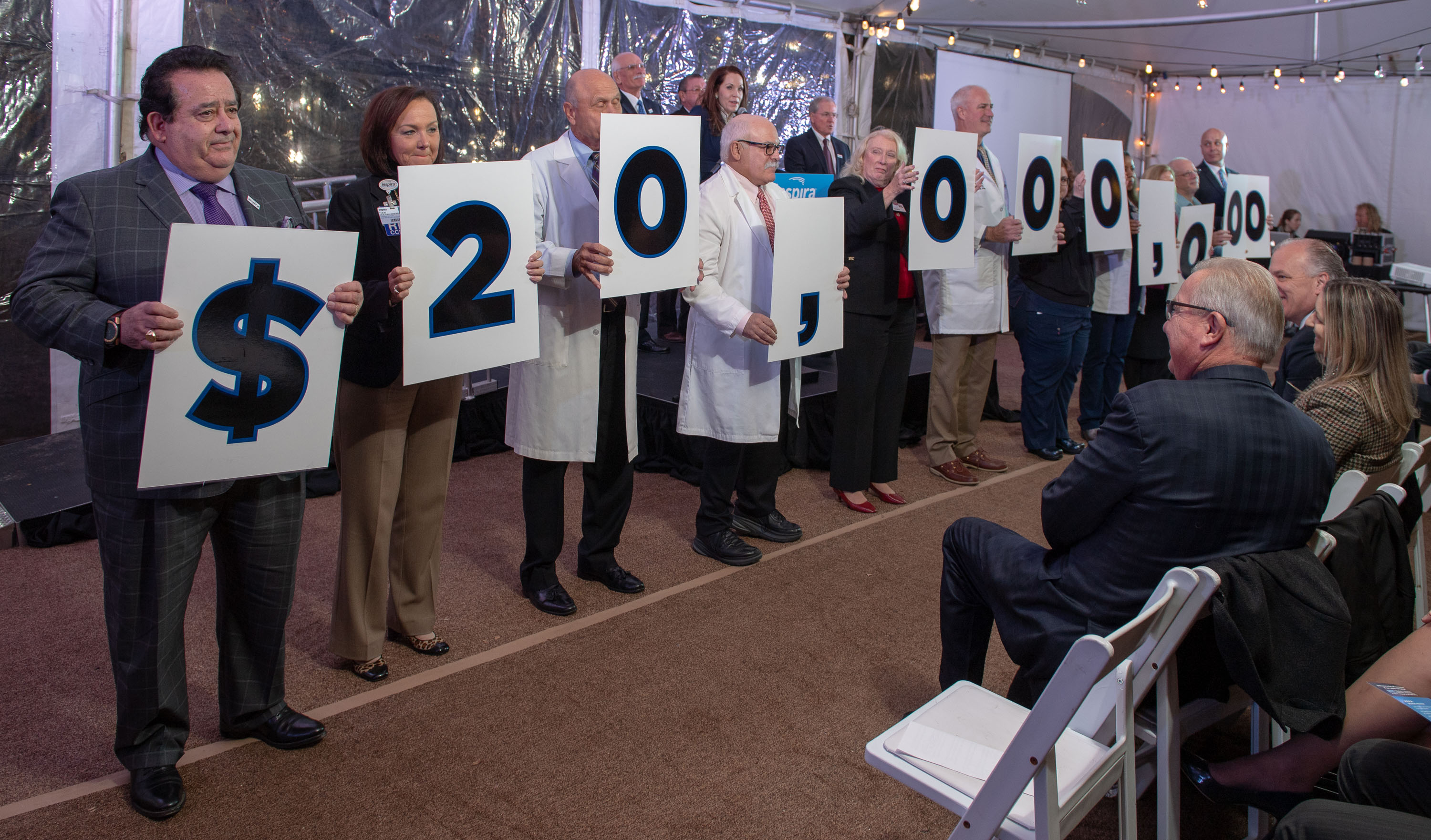 MULLICA HILL, N.J. (November 20, 2018) — More than 260 attendees joined Inspira Health Network officials at the future site of Inspira Medical Center Mullica Hill to celebrate the public launch of the network's ambitious "Invest. Impact. Inspire." capital campaign. Inspira announced that its goal of $20 million would help support the construction of Gloucester County's first new hospital in 45 years and improve access to exceptional health care professionals and leading-edge technology across the region. More than $17 million has already been pledged by Inspira leadership, board members, physicians, employees and local businesses.

The $20 million goal makes this the largest campaign ever conducted by the health network. With today's public launch, Inspira is now asking the communities it serves to help it reach the campaign's goal and advance health care in the region.
Several distinguished guests spoke at the event, including former Philadelphia Eagle and NFL broadcaster Ron Jaworski. Speakers also included John DiAngelo, President and CEO of Inspira Health Network; Todd Way, Executive Vice President of Operations at Inspira; Jessica Kowal, Chief Development Officer at Inspira; Michael McLaughlin, Chair of the Inspira Health Network Board of Trustees; Gary Galloway, Chair of the Inspira Hospital Board of Trustees; James E. George, M.D., J.D., campaign co-chair, and New Jersey Senate President Stephen Sweeney. 

"All of us in the Inspira family are excited to see the launch of this capital campaign that will help us improve health care for communities throughout South Jersey," DiAngelo said. "The campaign helps to support Inspira's investment in exceptional clinicians, leading technology and a comprehensive health care system."

Guests at the event learned more about Inspira's multimillion-dollar capital projects, including the $350 million Inspira Medical Center Mullica Hill, which will feature a comprehensive cancer program, state-of-the-art surgical suites, a pediatric emergency department and much more. At Inspira Medical Center Vineland, major projects include the recently opened $34.4 million two-story patient pavilion and $5.9 million senior emergency department. Elsewhere in the region, Inspira is reaffirming its commitment to serving Bridgeton, Elmer and Woodbury with critical development projects.

The capital campaign follows on the heels of the network's successful employee giving and physician giving "I'm IN!" initiatives. By introducing the campaign to the public, Inspira is inviting community members to invest directly in the essential health care services they receive.

"Every day, Inspira's physicians and employees offer their services to the community, and now community members have an opportunity to give back," said Dr. George. "Supporting the campaign directly impacts patient care by helping Inspira continue to provide exceptional health care, close to home."

Inspira Health Network at a glance:
Three hospitals
Three robotic assisted surgery systems
Comprehensive cancer center
Cardiac Partners at Cooper and Inspira collaboration
Comprehensive inpatient and outpatient behavioral health services
Outpatient imaging and rehabilitation centers
11 urgent care centers
Transportation fleet of 117 vehicles
Numerous awards and accreditations, including the Magnet designation at Vineland, Elmer and Bridgeton locations; as well as the CEO Cancer Gold Standard Award, Most Wired Health System Award, Beacon Awards for Excellence in Critical Care Nursing, and more.
"It is an honor to share my passion for important local issues with the Inspira family and all of those committed to advancing exceptional health care in South Jersey," said Jaworski. "I'm proud to be a long-time supporter of campaigns like this one and all of the hard work done each day to improve access to great clinicians, leading-edge technology, and incredible health facilities."

Visit InspiraFoundation.org to make a gift or learn more about Inspira's "Invest. Impact. Inspire." capital campaign.
View full gallery of images here. 
About Inspira Foundations
Inspira Foundation Cumberland/Salem and Inspira Foundation Gloucester County are fundraising entities of Inspira Health Network, a premier health care provider in South Jersey, with hospitals in Elmer, Mullica Hill (opening fall 2019), Vineland and Woodbury; health centers in Bridgeton, Glassboro and Mullica Hill; and a regional cancer center in Vineland. For more information about Inspira Foundations, including donation information and volunteer opportunities, call (856) 641-8290 or visit www.InspiraFoundation.org.

For more information about Inspira Health Network, please visit www.InspiraHealthNetwork.org or call 1-800-INSPIRA. To stay connected with Inspira announcements and work being done in the community, please join the conversation on Facebook and Twitter. Inspira is proud to be the Official Health Care Partner of the Philadelphia Wings professional lacrosse team. 

About Inspira Health Network
Inspira Health Network is a charitable nonprofit health care organization and a regional leader in physician training, with approximately 160 medical residents and fellows in nine nationally accredited specialty programs. The network, which traces its roots to 1899, comprises three hospitals, a comprehensive cancer center, several multi-specialty health centers and a total of more than 150 access points. These include urgent care; outpatient imaging and rehabilitation; sleep medicine labs; cardiac testing facilities; digestive health and wound care centers; home care and hospice; and more than 30 primary and specialty physician practices in Gloucester, Cumberland, Salem, Camden and Atlantic counties.

Together with its medical staff of more than 1,100 physicians and other care providers, as well as more than 5,800 employees, Inspira Health Network provides evidence-based care to help each patient achieve the best possible outcome. Accredited by DNV Healthcare, the network's clinical and support staffs are focused on providing quality care in a safe environment. For more information about Inspira Health Network, visit www.InspiraHealthNetwork.org or call 1-800-INSPIRA.