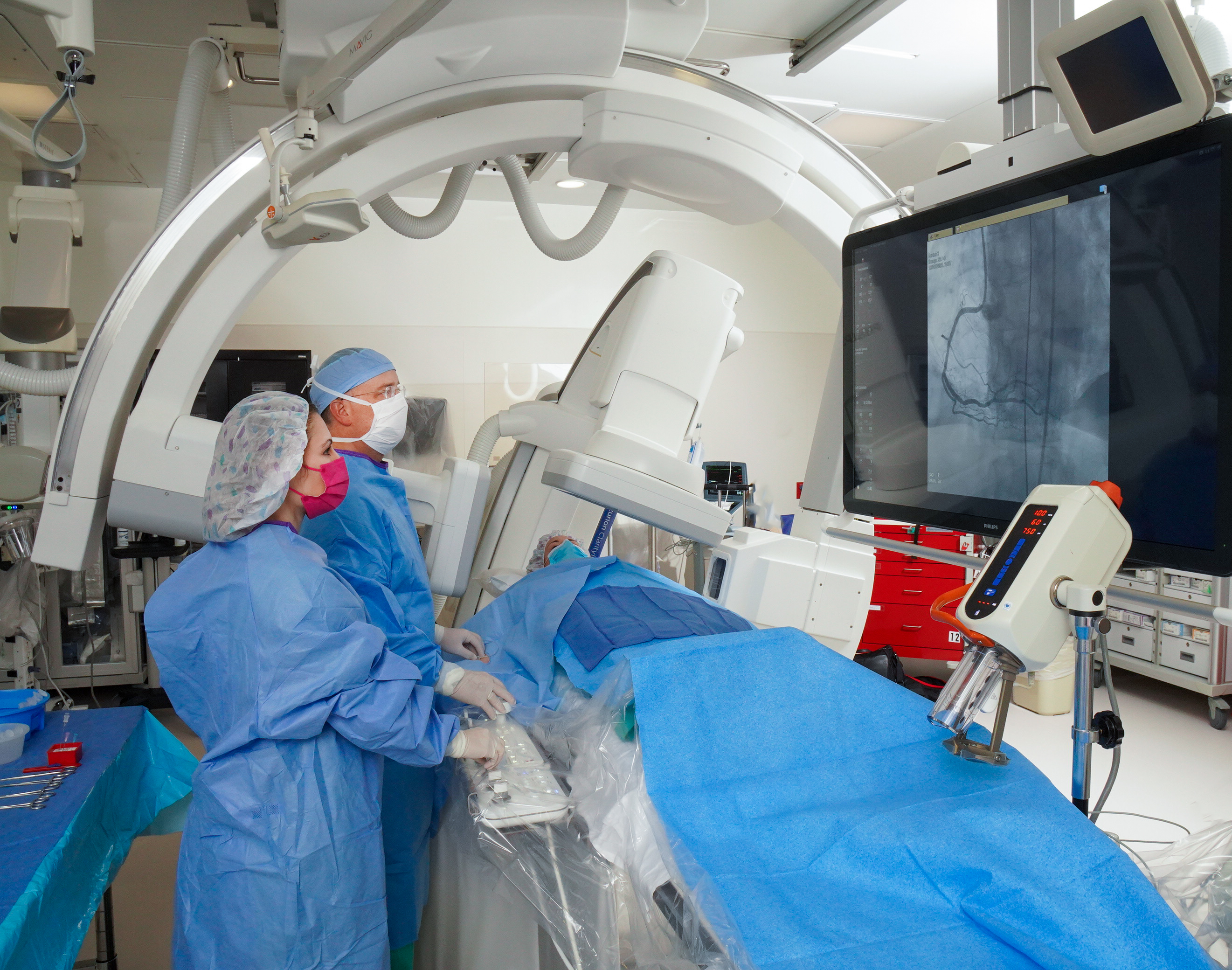 Mullica Hill, New Jersey, July, 29th 2022 – Inspira Medical Center Mullica Hill, part of Inspira Health, today announced that their cardiac team recently performed their 100th elective Percutaneous Coronary Intervention (PCI) procedure, since receiving their license in December 2021. Elective PCI is a scheduled procedure that cardiologists use to open blocked coronary arteries, with stents, in patients diagnosed with coronary artery disease. This minimally-invasive treatment restores blood supply to the heart muscle and helps prevent heart attack, heart failure and other forms of heart disease.
"Since Inspira Medical Center Mullica Hill started performing elective PCI procedures, the network has had the opportunity to have a greater impact on the community and people's lives," said Dr. Ashfaque Ali Unwala, M.D., interventional cardiologist and medical director of the cardiac catheterization lab at Inspira Medical Center Mullica Hill. "With the addition of elective PCI, our team has been able to take cardiac care to the next level and provide our patients with safe and high-quality care in their community – without the need to schedule a follow-up procedure at, or be transferred to, a tertiary care facility. It's a privilege to achieve this milestone and I am looking forward to taking this program to even greater heights while continuing to ensure exceptional patient outcomes."
Inspira Health is part of Cardiac Partners, along with Cooper University Health Care, which provides patients in Southern New Jersey access to more coordinated and comprehensive cardiac services across the continuum of care. With the addition of elective PCI licensure at Inspira Medical Centers Mullica Hill and Vineland, Cardiac Partners can provide patients with advanced, lifesaving cardiac care close to home – offering more options and safer treatments to patients, and a more seamless patient experience.
For more information about Inspira Health, please visit www.InspiraHealthNetwork.org or call 1-800-INSPIRA. To stay connected with Inspira announcements and work being done in the community, please join the conversation on Facebook and Twitter. Inspira is proud to be the Official Health Care Partner of the Philadelphia Wings professional lacrosse team.
---
About Cardiac Partners at Cooper and Inspira
Cardiac Partners at Cooper and Inspira was formed to bring together the leading cardiology practices and innovative health care systems of two large medical providers: Cooper University Health Care and Inspira Health. The combination of the two makes Cardiac Partners the largest cardiac program in South Jersey, providing patients in the region with access to more coordinated cardiac services across the continuum of care. To learn more, visit www.CardiacPartners.org.