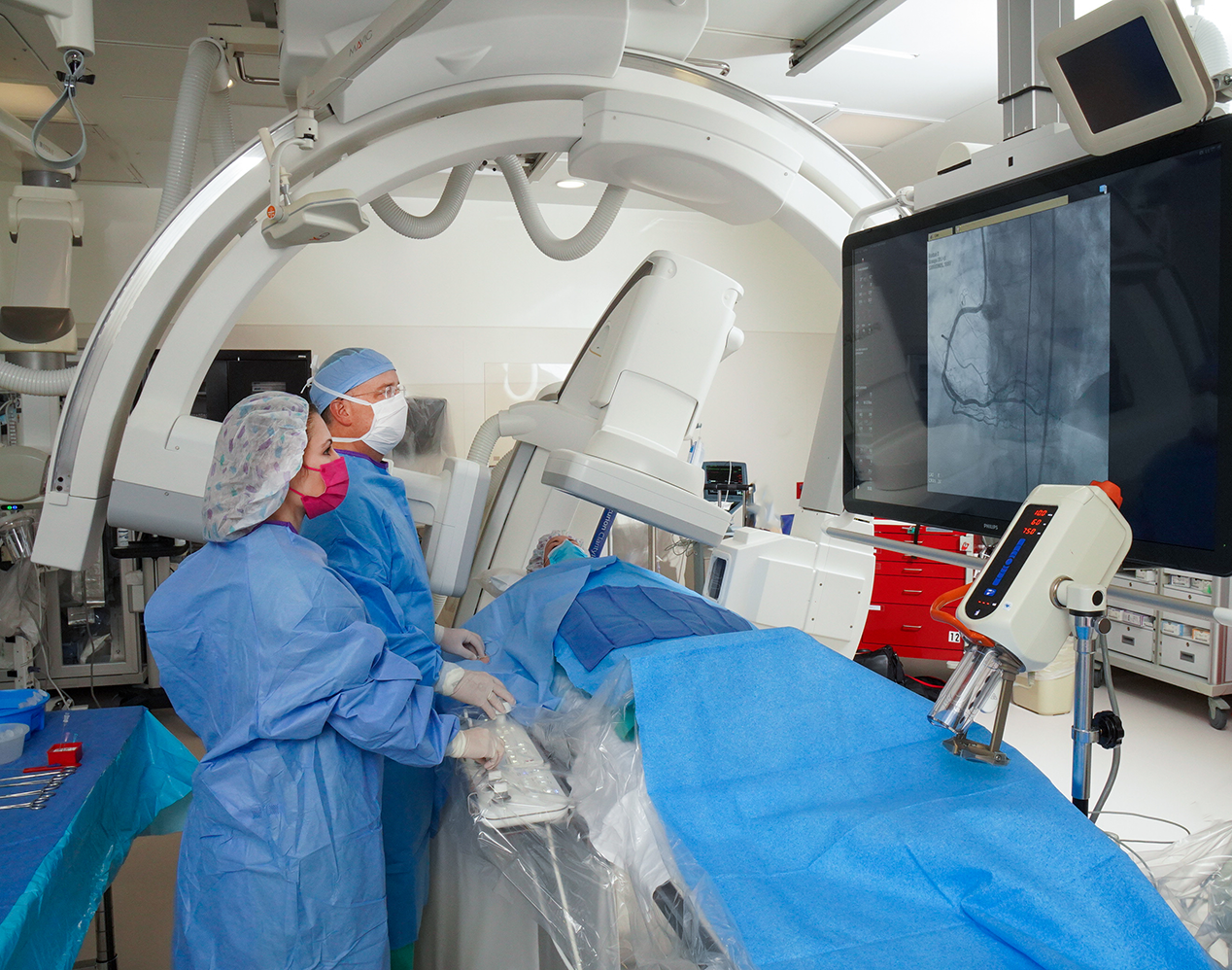 Mullica Hill, New Jersey, – In February 2021, the New Jersey Department of Health made it possible for community hospitals to provide elective Percutaneous Coronary Intervention (PCI) procedures. Today, Inspira Medical Center Mullica Hill, part of Inspira Health, announces they have been awarded their license to provide elective PCI procedures to patients, effective December 27. Inspira Health is part of Cardiac Partners, along with Cooper University Health Care, which provides patients in the South Jersey region with access to more coordinated and comprehensive cardiac services across the continuum of care. 
"As an organization committed to providing a safe and compassionate experience, Inspira is always looking for ways to elevate the care we provide across our region to improve the health and well-being of the community," said Amy B. Mansue, President and CEO of Inspira Health. "Although the option to offer elective PCI at Inspira Health is new, our interventional cardiology teams are experienced in performing this procedure and providing the highest quality of care to enhance and save the lives of our patients. This is a monumental milestone for Inspira Health, and receiving this license is a true testament to the hard work and dedication of all our staff members." 
Inspira has been providing full-service diagnostic cardiac catheterization for the past 25 years and emergent PCI procedures since 2009. With the addition of elective PCI at Inspira Medical Center Mullica Hill, the organization is now able to take cardiac care to a new level. Elective PCI is a scheduled procedure that cardiologists use to open clogged coronary arteries, with stents, in patients diagnosed with coronary artery disease. This minimally-invasive treatment restores blood supply to the heart muscle and helps prevent heart attack, heart failure and other forms of heart disease.
"With the approval to move forward with elective PCI procedures, the cardiac team was able to quickly pivot and had the opportunity to perform the first elective intervention procedure at Mullica Hill on a diagnostic patient who was a candidate for an intervention," said Kurt W. Kaulback MD, Clinical Director of Network Cardiovascular Services at Inspira Health, and member provider with Cardiac Partners at Cooper and Inspira. "These new regulations give Inspira the opportunity to have a greater impact on people's lives, particularly those in underserved communities. We look forward to treating our patients in their home facility while continuing to provide the highest quality of care." 
Inspira Medical Center Vineland is also in the process of seeking approval to provide elective PCI procedures and, recently, achieved a new milestone. The cardiac team performed their 100th emergent PCI procedure of 2021 in the Vineland cath lab, the first time since the program started in 2013 that they've crossed that milestone in a single year. 
 
For more information about Inspira Health, please visit www.InspiraHealthNetwork.org or call 1-800-INSPIRA. To stay connected with Inspira announcements and work being done in the community, please join the conversation on Facebook and Twitter. Inspira is proud to be the Official Health Care Partner of the Philadelphia Wings professional lacrosse team. 
About Cardiac Partners at Cooper and Inspira
Cardiac Partners at Cooper and Inspira was formed to bring together the leading cardiology practices and innovative health care systems of two large medical providers: Cooper University Health Care and Inspira Health. The combination of the two makes Cardiac Partners the largest cardiac program in South Jersey, providing patients in the region with access to more coordinated cardiac services across the continuum of care. To learn more, visit CardiacPartners.org.