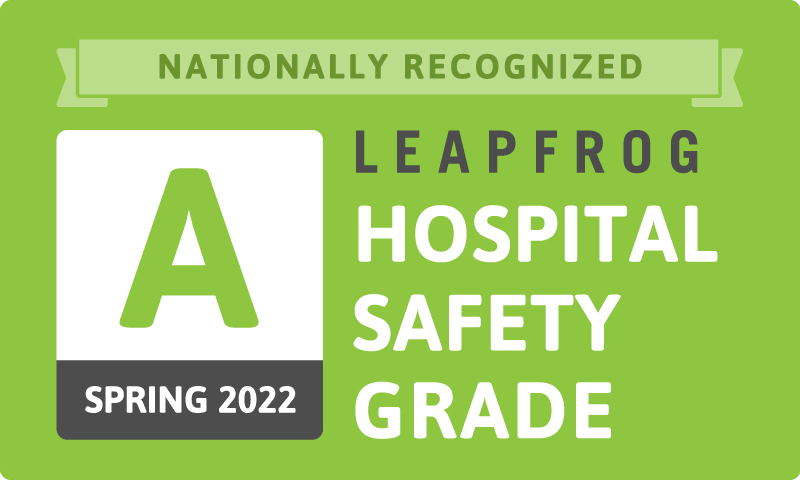 Mullica Hill, NJ (May 10, 2022) – Inspira Medical Centers Mullica Hill and Vineland, part of Inspira Health, both received an "A" for the Spring 2022 Leapfrog Hospital Safety Grade. This national distinction recognizes both hospitals achievements in protecting patients from preventable harm.
"At Inspira, we are committed to providing a high-quality, safe and compassionate experience to all our patients and the community," said Amy Mansue, president and CEO of Inspira Health. "We are grateful to The Leapfrog Group for their focus on patient safety, and I am extremely proud of the Inspira family for their commitment to providing excellent care and keeping our patients and visitors safe." 
The Leapfrog Group, an independent national watchdog organization, assigns an "A," "B," "C," "D," or "F" grade to general hospitals across the country based on over thirty national performance measures reflecting errors, accidents, injuries and infections, as well as systems hospitals have in place to prevent harm.
The Leapfrog Hospital Safety Grade is the only hospital ratings program based exclusively on hospital prevention of medical errors and harm to patients. The grading system is peer-reviewed, fully transparent and free to the public. Grades are updated twice annually, in the fall and spring.
"As our health care system continues to feel the strain of the pandemic, I thank the workforce and leadership of Inspira Medical Centers Mullica Hill and Vineland for sustained commitment to patient safety, day in and day out," said Leah Binder, president and CEO of The Leapfrog Group. "An 'A' Safety Grade is an outstanding achievement, and one that is not possible without a 24/7 effort by the entire health care workforce to protect patients from harm. This community should be proud."
To see Inspira Medical Centers Mullica Hill and Vineland full grade details and to access patient tips for staying safe in the hospital, visit HospitalSafetyGrade.org and follow The Leapfrog Group on Twitter, Facebook, and via its newsletter.
For more information about Inspira Health, please visit www.InspiraHealthNetwork.org or call 1-800-INSPIRA. To stay connected with Inspira announcements and work being done in the community, please join the conversation on Facebook and Twitter. Inspira is proud to be the Official Health Care Partner of the Philadelphia Wings professional lacrosse team.
About Inspira Health
Inspira Health is a charitable nonprofit health care organization and a regional leader in physician training, with approximately 200 medical residents and fellows in 13 nationally accredited programs at its hospitals in Vineland, Mullica Hill, and Elmer. That number will grow to more than 250 by 2023.
The system traces its roots to 1899 and comprises three hospitals, two comprehensive cancer centers, eight multi-specialty health centers, and more than 200 access points. These include urgent care; outpatient imaging and rehabilitation; sleep medicine labs; cardiac testing facilities; behavioral health, digestive health, wound care centers; home care and hospice; and more than 35 primary and specialty physician practices in Gloucester, Cumberland, Salem, Camden and Atlantic counties. Additionally, Inspira EMS services six South Jersey counties.
Inspira's 1,300-member medical staff and 6,800 employees provide an unwavering commitment to delivering a superior patient experience at every point of the journey. Technology and innovation investments provide a robust provider directory and a range of services including online scheduling and virtual visits for both primary and specialty care providers. With a commitment to multi-channel digital access, Inspira is able to meet consumer demand for self-service and personalized care options.
Accredited by DNV Healthcare and committed to the principles of high reliability, the system's clinical and support staffs are focused on clinical excellence and patient safety. For more information about Inspira Health, visit www.InspiraHealthNetwork.org or call 1-800-INSPIRA.
About The Leapfrog Group
Founded in 2000 by large employers and other purchasers, The Leapfrog Group is a national nonprofit organization driving a movement for giant leaps forward for patient safety. The flagship Leapfrog Hospital Survey and new Leapfrog Ambulatory Surgery Center (ASC) Survey collect and transparently report hospital and ASC performance, empowering purchasers to find the highest-value care and giving consumers the lifesaving information they need to make informed decisions. The Leapfrog Hospital Safety Grade, Leapfrog's other main initiative, assigns letter grades to hospitals based on their record of patient safety, helping consumers protect themselves and their families from errors, injuries, accidents, and infections. For more, follow us on Twitter and Facebook, and sign up for our newsletter.