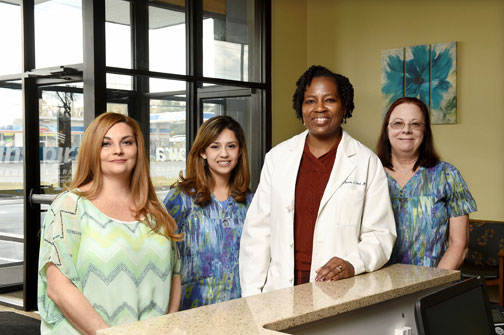 ATLANTIC/CUMBERLAND COUNTY, NJ (March 23, 2016) – Inspira Medical Group recently celebrated the opening of a new Family Medicine center located in Buena Vista Township. The practice, formerly located in Minotola, is led by Mavola Tench, M.D.

"We are so thrilled here in Buena Vista Township to welcome this Inspira facility to our community," said Mayor Chuck Chiarello of Buena Vista Township. "The new facility is beautiful and will be of great value to our community."

Inspira Medical Group's Family Medicine practice in Buena Vista provides comprehensive medical care for entire families, including children of all ages and routine gynecological care. The newly constructed 1,800 square-foot practice features 7 exam rooms designed to provide a warm and welcoming feel. In addition, laboratory services are available on-site.
"At Inspira Medical Group, we know that good health begins with primary care and we partner with our patients to help them maintain their overall health and wellness," said Dr. Tench. "Our staff is excited to be in this new facility which will enable us to offer even more community members access to quality primary care."

Inspira Medical Group Family Medicine Buena Vista is located at 761 S. Harding Highway in Buena. For more information, please call the office at (856) 697-0111.
About Inspira Health Network
Inspira Health Network is a charitable nonprofit health care organization serving communities across southern New Jersey. The network, which traces its roots to 1899, comprises three hospitals, a comprehensive cancer center, several multi-specialty health centers and a total of more than 100 access points. These include urgent care; outpatient imaging and rehabilitation; numerous specialty centers, including sleep medicine, cardiac testing, digestive health and wound care; home care and hospice; and more than 30 primary and specialty physician practices in Gloucester, Cumberland, Salem and Camden counties.

Together with its medical staff of more than 1,100 physicians and other care providers, as well as more than 5,700 employees, Inspira Health Network provides evidence-based care to help each patient achieve the best possible outcome. Accredited by DNV Healthcare, the network's clinical and support staffs are focused on providing quality care in a safe environment. For more information about Inspira Health Network, call 1-800-INSPIRA.