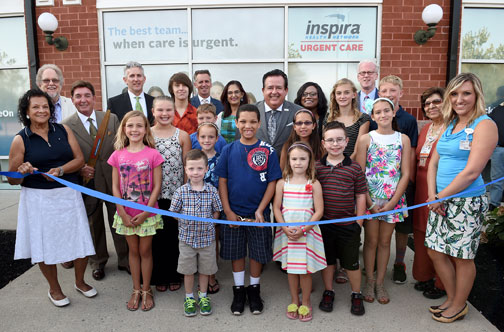 GLOUCESTER COUNTY, NJ (July 28, 2016) –  Inspira Health Network recently celebrated the opening of its newest Urgent Care center located in Washington Township with Mayor Barbara Wallace, local officials and families.

The center, located in the heart of Washington Township on the corner of Egg Harbor and Greentree Roads, will provide the community with walk-in treatment for a wide range of minor or non-life threatening conditions seven days a week.

"Urgent care centers are serving an important role in healthcare, and are especially needed in growing communities like ours," said Mayor Barbara Wallace. "I'm excited to welcome Inspira Urgent Care to Washington Township."

With the opening of the Washington Township location, Inspira now operates six Urgent Care centers across the region and is planning the opening of two more centers in Camden County within the next year.

"Here at Inspira we have made a promise to our communities to make access to high quality care easy, and at the same time provide an excellent experience for patients," said John DiAngelo, president and CEO of Inspira. "The doctors and staff at our new Washington Township location are doing just that while partnering with patients to get them healthy."

The new 4,700 square-foot center features a warm and welcoming environment, 13 exam rooms, and x-ray services available for patients on site. Additionally, in most cases patients can fill prescriptions at the time of visit.

"Our Urgent Care centers are just one way that we are helping to build healthier communities," said Alka Kohli, M.D., executive vice president and chief population health and clinical officer at Inspira. "By providing people with access to the appropriate level of care for non-emergent cases, we are able to treat their minor injuries or illnesses before they become more serious and for a lower out-of-pocket cost."

Inspira Urgent Care Washington Township is located at 372 Egg Harbor Road, Suite 4A next to Bottino's ShopRite. Other locations include: Glassboro, Mantua, Mullica Hill, Vineland and Woolwich Township. For more information, visit InspiraUrgentCare.org or call 1-800-INSPIRA.
About Inspira Health Network
Inspira Health Network is a charitable nonprofit health care organization serving communities across southern New Jersey. The network, which traces its roots to 1899, comprises three hospitals, a comprehensive cancer center, several multi-specialty health centers and a total of more than 100 access points. These include urgent care; outpatient imaging and rehabilitation; numerous specialty centers, including sleep medicine, cardiac testing, digestive health and wound care; home care and hospice; and more than 30 primary and specialty physician practices in Gloucester, Cumberland, Salem and Camden counties.

Together with its medical staff of more than 1,100 physicians and other care providers, as well as more than 5,700 employees, Inspira Health Network provides evidence-based care to help each patient achieve the best possible outcome. Accredited by DNV Healthcare, the network's clinical and support staffs are focused on providing quality care in a safe environment. For more information about Inspira Health Network Urgent Care, or call 1-800-INSPIRA.