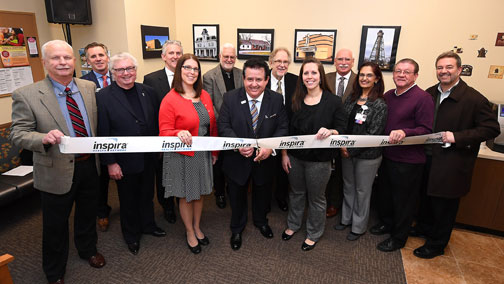 GLOUCESTER COUNTY, NJ (February 16, 2017) – Inspira Health Network celebrated the opening of its newest Family Medicine office in Clarksboro this week with a ribbon cutting and open house.

The newly constructed 4,800 square foot center features a warm and welcoming design and six treatment rooms. Comprehensive primary care services, including care for children age five and above, will be provided by Erica Milas, D.O. and Kristen Trom, D.O.

"As an organization that is focused on improving the health of our communities, we believe that high quality, easily accessible primary care is a vital component of any healthy community," said Alka Kohli, M.D., executive vice president and chief population health and clinical officer at Inspira. "We're pleased to now offer families in this community, and across South Jersey, with access to 12 primary care locations staffed by 22 board certified physicians."

Dr. Milas and Dr. Trom are board certified by the American Board of Family Medicine. In addition, Dr. Milas has completed a women's health fellowship at MacNeal Hospital in Berwyn, Illinois. Dr. Trom completed her residency training locally at Inspira Health Network's Family Medicine Residency program in Vineland.

Featured services include:
Routine physical exams, including school/college and work
Preventive health care screenings and counseling
Management of chronic adult illnesses
Diagnostic testing
Full laboratory services
Minor dermatological procedures
Referrals to specialists when needed and continued coordination of care
Disease prevention, counseling and patient education
Focus on women's health
Routine gynecologic care
Lactation/breastfeeding education and support
The office is open Monday through Friday with select evening hours. In most cases, same day appointments are available for acute illnesses. Inspira Medical Group Family Medicine Clarksboro is located in the Whiskey Mill center at 121 Berkley Road in Clarksboro. For more information, visit www.InspiraMedicalGroup.org or call (856) 284-6500.
About Inspira Health Network
Inspira Health Network is a charitable nonprofit health care organization serving communities across southern New Jersey. The network, which traces its roots to 1899, comprises three hospitals, a comprehensive cancer center, several multi-specialty health centers and a total of more than 125 access points. These include urgent care; outpatient imaging and rehabilitation; numerous specialty centers, including sleep medicine, cardiac testing, digestive health and wound care; home care and hospice; and more than 30 primary and specialty physician practices in Gloucester, Cumberland, Salem and Camden counties.

Together with its medical staff of more than 1,100 physicians and other care providers, as well as more than 5,700 employees, Inspira Health Network provides evidence-based care to help each patient achieve the best possible outcome. Accredited by DNV Healthcare, the network's clinical and support staffs are focused on providing quality care in a safe environment. For more information about Inspira Health Network, call 1-800-INSPIRA.