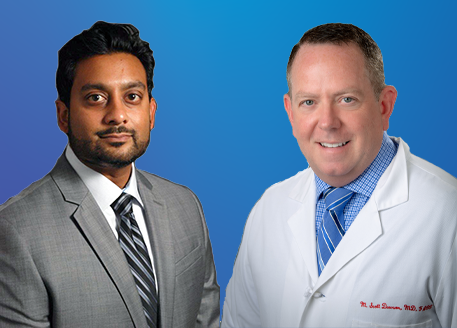 At the start of the pandemic, pharmaceutical companies around the world put their efforts behind preventing and treating COVID. Veru, a company mainly focused on oncology, found promise when conducting an in-vitro study on VERU-111, a drug originally intended for prostate cancer treatment. Now, after gathering overwhelming evidence of safety and efficacy in treating COVID pneumonia, Veru is in the process of requesting an Emergency Use Authorization (EUA). 
With a medical staff that has a strong interest in research and depth of experience, Inspira was fortunate to have a hand in phases two and three of the VERU-111 clinical trial, led by principal investigators Samaresh Dasgupta, D.O., an emergency medicine physician at Inspira Medical Center Vineland, and M. Scott Dawson, M.D., a cardiologist at Inspira Medical Center Mullica Hill. 
A groundbreaking clinical trial 
VERU-111 is a novel medication that demonstrates both anti-inflammatory and antiviral properties. The clinical trial tested its use in treating severe COVID pneumonia in hospitalized patients. "The goal of this trial is to test VERU-111's effectiveness in reducing the mortality and morbidity rates of COVID-19," said Dr. Dawson. 
In phase two of the VERU-111 study, there was greater than an 80 percent decrease in mortality, as well as a substantial decrease in days on a ventilator and days staying in the ICU among those treated with the drug, when compared with the control arm. Because of the overwhelming evidence of efficacy and minimal side effects, phase three of the trial involved two-to-one randomization to ensure even more patients would see the anticipated benefits of this treatment option.
The preliminary results of the third phase of the trial continued to demonstrate that VERU-111 was overwhelmingly effective and safe for treating COVID pneumonia. As a result, the study was paused early, allowing Veru to initiate the EUA process sooner. "We have good, hard data that appears to indicate this drug can save lives with very few side effects," said Dr. Dasgupta. "This chemical compound, sabizabulin, has a history of use in humans, and has been used at a higher dose in prostate cancer trials, so we know its safety profile is favorable." 
Inspira's contribution to the lifesaving trial
Inspira had a hand in this groundbreaking study with fifteen patients participating during phases two and three, including more than 15 percent of the patients enrolled in phase two. More importantly, Inspira was able to enroll patients who are historically underrepresented in clinical trials, including Hispanic and African American patients. 
"It's important to have a variety of patients represented in clinical trials," said Catherine Vasquez, R.N., B.S.N., lead clinical trial manager for the VERU-111 study and native Spanish speaker. "Lack of access to care among historically underserved populations means that illnesses like COVID often disproportionately affect those populations." Vasquez worked to ensure that Inspira was able to enroll patients representative of our population—here in South Jersey and globally. 
The full-service clinical research office at Inspira takes care of all the regulatory paperwork, contracts and other administrative work that go into clinical trials, as well as screening for potential trial participants. The clinical research team works closely with principal investigators and allows them to do what they do best—treat patients. "We've been able to contribute to science that will potentially save a lot of lives," said Dr. Dawson. "And we were able to pull this off during a global pandemic because of our clinical research team working seamlessly in partnership with providers." 
Inspira Health and residents of South Jersey are contributing to cutting-edge research. "During the most unprecedented circumstances, we have those resources to help advance medicine and provide the best care possible to our patients," said Dr. Dasgupta.