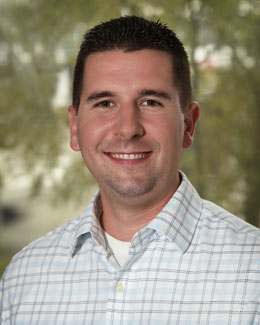 CUMBERLAND COUNTY, NJ (July 1, 2016) – Inspira Medical Group is pleased to announce Dave Aderholdt, D.O., has joined its Family Medicine office in Millville to provide area families with comprehensive primary care for all ages alongside Nicole Zucconi, D.O., and Samantha Aderholdt, P.A.

Born and raised in Millville, New Jersey, Dr. Aderholdt is now the eight resident from Inspira Health Network's residency programs to remain in the community and practice locally since 2011.    

"As a lifelong member of Cumberland County, I'm proud to serve my hometown community by returning to practice medicine," said Dr. Aderholdt.

Dr. Aderholdt is board certified by the American College of Osteopathic Family Physicians. He earned his Doctorate of Osteopathic Medicine from the Philadelphia College of Osteopathic Medicine. After earning his medical degree, Dr. Aderholdt began his residency at Inspira Medical Center Vineland. During his residency he served as Medical Student Liaison, where he assisted in the recruitment of new residents and served as the point person for student needs and feedback. He also served as a member of the Family Medicine Performance Improvement Subcommittee, reviewing hospital medical records to provide recommendations on quality improvement and patient safety.

Inspira Medical Group Family Medicine Millville provides comprehensive primary care for newborns through seniors, including disease prevention, counseling and patient education, diagnosis and treatment of acute illnesses, management of chronic adult illnesses, diagnostic testing, and more. In addition to treatment in the office, the practice's physicians provide in hospital care to admitted patients.  
 
Inspira Medical Group Family Medicine Millville is located at 3 Elizabeth Avenue in Millville. The office is open Monday through Saturday with extended evening hours. For more information, please call (856) 641-6272.
About Inspira Health Network
Inspira Health Network is a charitable nonprofit health care organization serving communities across southern New Jersey. The network, which traces its roots to 1899, comprises three hospitals, a comprehensive cancer center, several multi-specialty health centers and a total of more than 100 access points. These include urgent care; outpatient imaging and rehabilitation; numerous specialty centers, including sleep medicine, cardiac testing, digestive health and wound care; home care and hospice; and more than 30 primary and specialty physician practices in Gloucester, Cumberland, Salem and Camden counties.

Together with its medical staff of more than 1,100 physicians and other care providers, as well as more than 5,700 employees, Inspira Health Network provides evidence-based care to help each patient achieve the best possible outcome. Accredited by DNV Healthcare, the network's clinical and support staffs are focused on providing quality care in a safe environment. For more information about Inspira Health Network, call 1-800-INSPIRA.