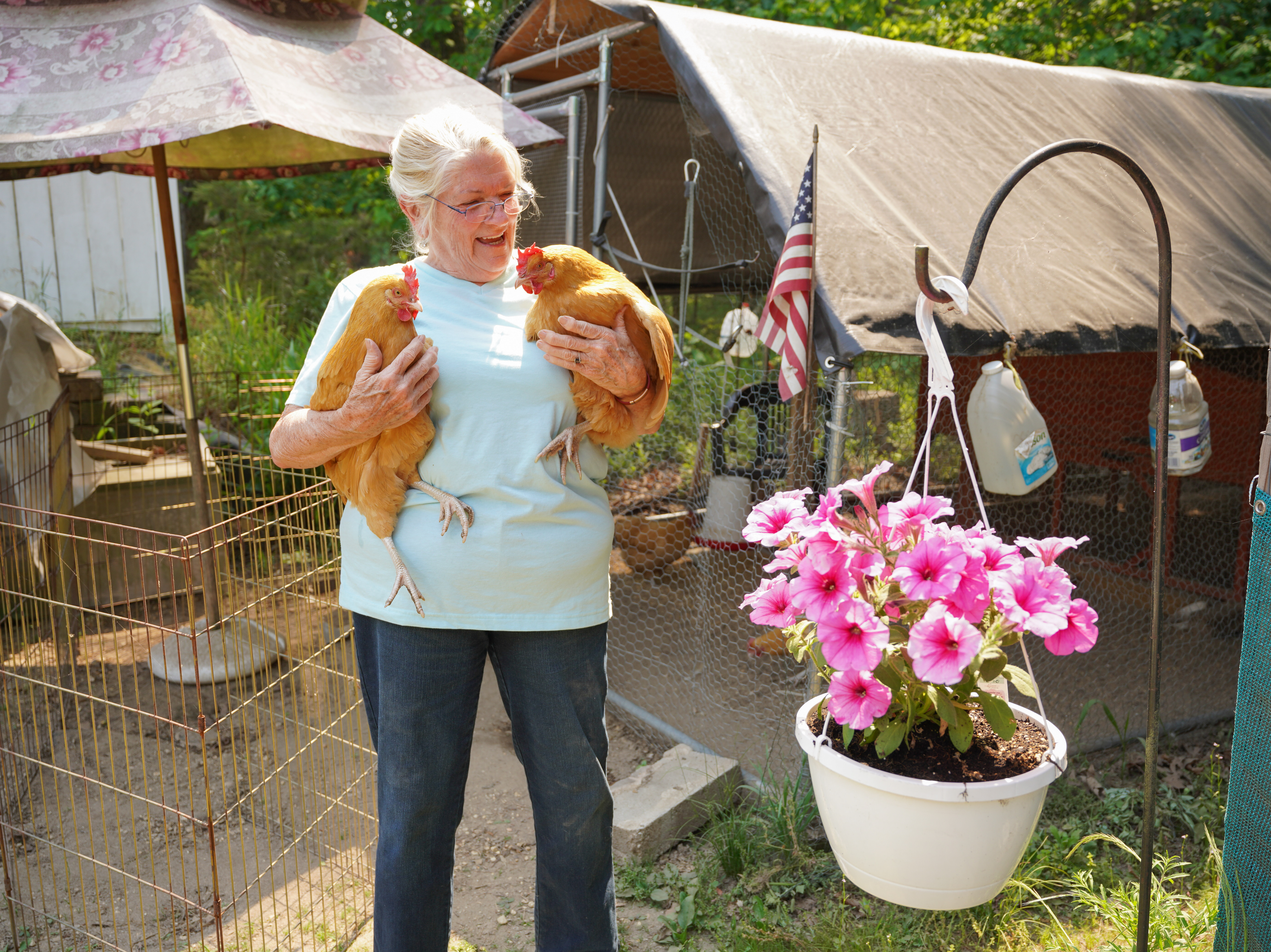 Carol Johns, 72, made it through most of her life with very few health issues. That was until a heart attack introduced her to the emergency department, cardiac catheterization lab, and intensive care unit at Inspira Medical Center Vineland, a Cooper and Inspira Cardiac Care location.
Carol has always stayed active since retiring at 55 from her career as an executive administrative assistant. So, when she first noticed discomfort in her neck and shoulder in the fall of 2022, she attributed it to working with an electric drill while winterizing a chicken run at the Millville home of her daughter-in-law, Heather, and son, Jonathan.
"When I woke up at 2 a.m. with some increasing pain, I thought I had just overdone it a bit," Carol said. "I got some aspirin and went back to bed."
Minutes later and growing more concerned, she looked up the symptoms of a heart attack on her phone. Then she texted her daughter a single word: "Heart?"
Heather and Jonathan transported her immediately to the emergency department at Inspira Vineland. For Carol, it was an unfamiliar experience.
"I've always been very healthy. I didn't even have any prescriptions," she said. "I was almost completely unfamiliar with how hospitals work."
In the ER, Timmy Cheung, D.O., ran tests and explained to Carol that she'd need to be treated in the cardiac catheterization lab.
"Dr. Cheung asked me to describe what brought me to the hospital and talked me through what was going to happen in the cath lab," she said. "He told me that we did everything right by getting there as soon as we did."
Carol had coronary angioplasty and two stents placed by interventional cardiologist Zahi Rafeq, M.D.
"When I found out that Dr. Rafeq was called in from home to do my procedure, I made sure to thank him," she said.
Carol was then admitted to the intensive care unit, where she was cared for, in part, by registered nurse Robin Fey, B.S.N., C.C.R.N.
"Robin was like none other! She put so much of herself into taking care of me and getting my low B.P. to normal." She wrote of the ICU staff, "Their dedication to the well-being of their patient was par excellence. There are no sufficient words to express my gratitude to them."
About two months after her emergency stents, Carol returned to Inspira for an elective procedure. She saw a few familiar faces and met some new ones. She was surprised that several members of the staff even remembered her name.
Carol said her experience with the care team both times was a blend of "compassion, organization and expertise." She mentioned that she especially appreciated that team members spoke clearly to her through their masks because she has some hearing difficulty and wanted to get all the information they were giving her.
In a letter sent to Inspira and a conversation afterward, Carol expressed her gratitude at how compassionately and efficiently her care was handled during both visits.
She wrote: "I have one word to describe the experience in the cath lab - choreography! The room and hallway were filled with staff all functioning as one. It was amazing to see."
"As I was rolled in, the staff were greeting me, giving me their names and assignments," she wrote. "Your staff of angelic trained professionals far, far exceeded all of my expectations. These are challenging times for your staff and yet their passion and dedication to what they do rises so far above the challenges!"
Now, months out from her last procedure, Carol is getting "back to normal" and following up with her cardiologist Jeffrey Leavy, M.D. She is tending to her organic herb and vegetable gardens and caring for the chickens at her daughter's house. She also delivers eggs to her pastor's wife to share with people in need. Yet she remains mindful of her care team's recommendations.
"No one could have been more shocked than I was at having a health scare, but I am conscious of what happened and making sure that I am gradually getting back to being myself."
Carol also said that she leaned heavily on her faith during her recent health challenges, and that she is thankful for all the professionals at Inspira.
The other team members that Carol thanked by name in her letter included Michael Foster, Fito Candelaria, Brandon Traister, Yolanda Pena, Carol Middleton, Marlon Scott, Laura Hannum, Angel Seidel and Nadine Montaque, and David Van Arsdell, M.D.
She said, "What these people do is way way more than a profession! I had a team of ministering angels at Inspira. They were there at the right time and in the right place for me."
Following the guidance of the American Heart Association and other national organizations, the Cardiac Care team at Inspira Health recommends calling 911 if you believe you, or someone you are with, might be experiencing a heart attack.