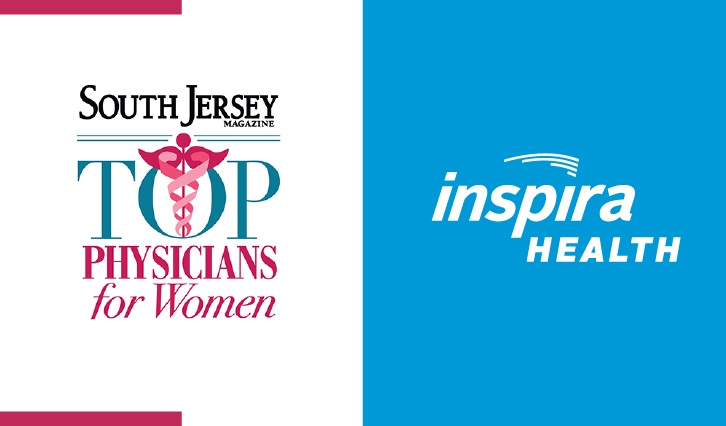 At Inspira, our mission is to provide a safe and compassionate experience to patients, and improve the health and well-being of the community. We are continually striving to enhance the patient experience and today, we are proud to recognize and congratulate several of our physicians who have recently been named a Top Physician for Women by South Jersey Magazine. Please see the full list of honorees below:
Keith Kreitz (Bariatric Surgery)
Robert Coben (Gastroenterology)
Erev Tubb (Medical Oncology; Hematology Oncology)
Martin Dawson (Cardiology)
Jodi Fox Mellul (Endocrinology)
Elaine Cheng (General Surgery)
Timothy Pilla (Thoracic Surgery; Vascular Surgery; General Surgery)
Robert Chvala (Nephrology)
Azieb Lofton (Obstetrics and Gynecology)
Samantha DeLuca (Obstetrics and Gynecology)
Veronika Kinaschuk (Obstetrics and Gynecology)
David Lowther (Radiation Oncology)
Kurt Kaulback (Interventional Cardiology)
Grace Chung (Dermatology)
Ingrid Warmuth (Dermatology)
Donna Simmers-Dabinett (Emergency Medicine)
Tami Bach (Medical Oncology; Hematology Oncology)
Carl J. Minniti, Jr. (Medical Oncology; Hematology Oncology)
Byron Hapner (Obstetrics and Gynecology)
Martin Kanoff (Obstetrics and Gynecology)
Eddie Shyue-Haw Wu (Orthopedic Surgery)
Sean Bidic (Hand Surgery, Plastic Surgery)
Woojin Chong (Urogynecology)
The list comprises of over 100 doctors in the area who go above and beyond for their patients, are shining examples of what it means to care for others, and are helping to advance women's health in several specialty areas.
Women often spend much of their time focusing on their family, professional and personal lives, and they can be prone to serious diseases that can be prevented – or detected and treated early – with routine exams and check-ups. At Inspira, we have top physicians in different specialties to help women in the region improve their overall health and this recognition is a true testament to our team who has remained focused on providing safe, high-quality and compassionate care to all their patients.