New hospital remains on schedule to open late next year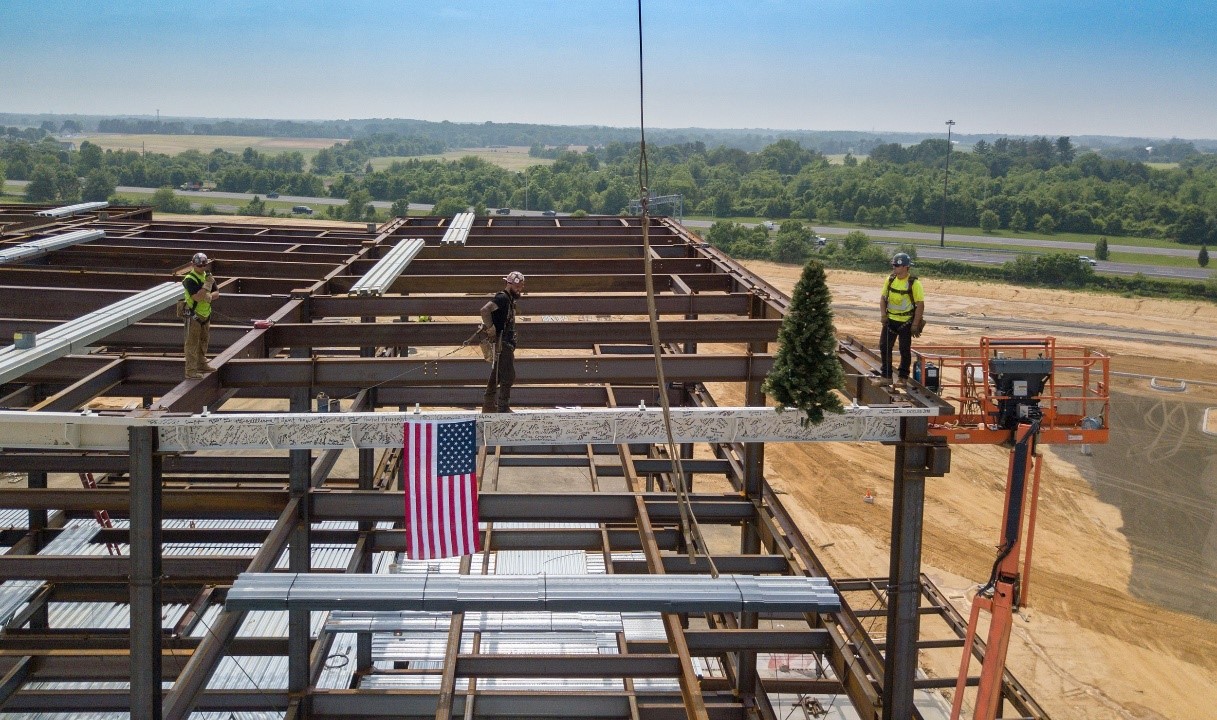 MULLICA HILL , NJ (June 5, 2018) – Inspira Health Network recently celebrated the installation of the final steel beam for its new state-of-the-art medical center in Mullica Hill. The construction began one year ago, and Inspira Medical Center Mullica Hill is expected to open in late 2019. 
"Inspira Medical Center Mullica Hill will ensure that our network will be able to meet the growing and changing health care needs of Gloucester County residents by providing high quality care and convenient access for decades to come," said John DiAngelo, president and CEO of Inspira Health Network. 

The $356 million medical center is located just east of the intersection of Route 322 and Route 55, adjacent to the West Campus of Rowan University. Its proximity to Rowan University will provide many opportunities for research and education within and beyond the health sciences.

The new hospital will include and provide: 
210 private patient rooms
the latest in medical and communication technology
16 home-like birthing suites
a pediatric emergency department with six rooms and adjacent six-bed inpatient pediatric unit
a comprehensive cancer program 
emergency angioplasty for heart attack patients
an emergency department with 36 patient rooms
valet parking
wayfinding technology to make finding your way easier
conveniently located outpatient services
The new medical center will be approximately 467,000 square feet in size and sit on a 100-acre parcel that will allow for additional growth and complimentary services over time. 

As inpatient care from Inspira Medical Center Woodbury transitions to the new hospital, a number of clinical services, including an emergency department, medical imaging and behavioral health, will continue to be provided in Woodbury. Several non-clinical departments will also be located on the Woodbury campus. Inspira leadership continues to partner with the City of Woodbury and the Gloucester County Improvement Authority to create a redevelopment plan for the Woodbury campus. 

For more information about Inspira Health Network, please visit www.InspiraHealthNetwork.org or call 1-800-INSPIRA. To stay connected with Inspira announcements and work being done in the community, please join the conversation on Facebook and Twitter. 
About Inspira Health Network
Inspira Health Network is a charitable nonprofit health care organization serving communities across southern New Jersey. The network, which traces its roots to 1899, comprises three hospitals, a comprehensive cancer center, several multi-specialty health centers and a total of more than 150 access points. These include urgent care; outpatient imaging and rehabilitation; numerous specialty centers, including sleep medicine, cardiac testing, digestive health and wound care; home care and hospice; and more than 30 primary and specialty physician practices in Gloucester, Cumberland, Salem and Camden counties.

Together with its medical staff of more than 1,100 physicians and other care providers, as well as more than 5,700 employees, Inspira Health Network provides evidence-based care to help each patient achieve the best possible outcome. Accredited by DNV Healthcare, the network's clinical and support staffs are focused on providing quality care in a safe environment. For more information visit www.InspiraHealthNetwork.org or call 1-800-INSPIRA.