A Message from Amy Mansue
President and CEO, Inspira Health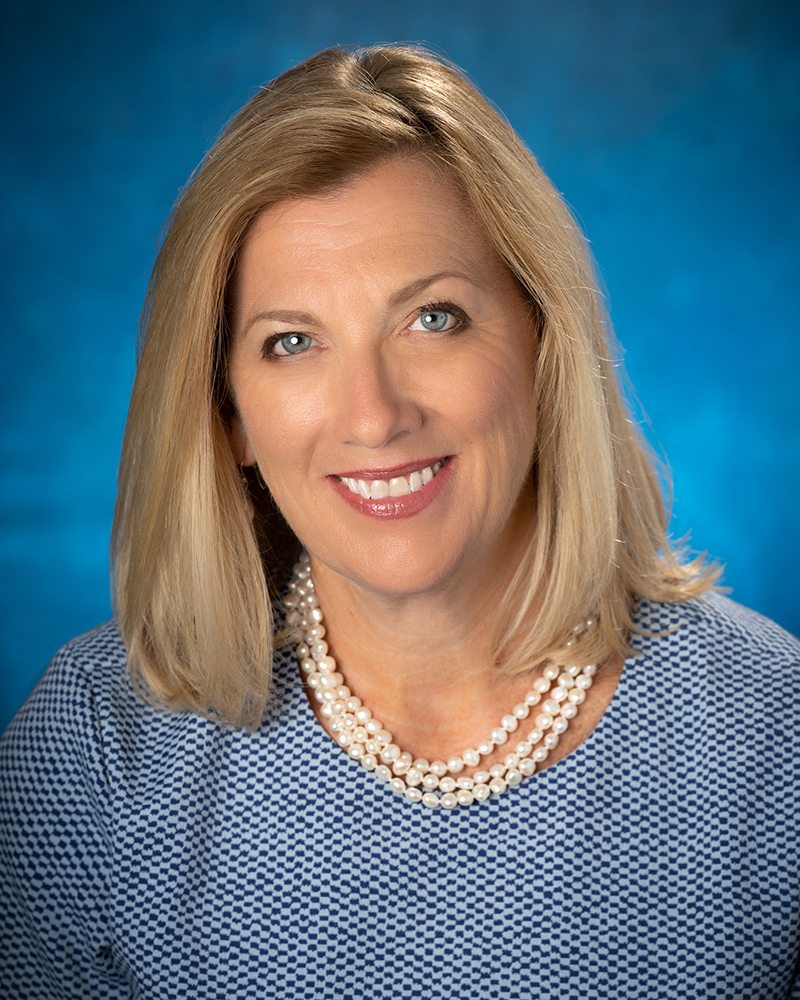 As we near the end of October, I want to take a moment to reflect back on an important topic: breast cancer. Although it can occur in both men and women, it is far more common in women. In fact, one in eight women in the U.S. are expected to develop breast cancer in their lifetime. 
At Inspira Health, you can be sure advanced care is right here when you need it. Exceptional personalized care is provided with the latest technology, making your journey to recovery as smooth as possible. 
We recently had the privilege of treating Vineland resident, Donna Piatt. 
One moment stands out among the rest for Donna. It happened during her first visit with surgical oncologist Nandini Kulkarni, M.D. "She told me, 'Over 90% of early stage breast cancer patients survive.'" 
With that one statement, Dr. Kulkarni gave Donna a precious gift, the gift of hope. 
"She always gave me hope, always, as well as her entire staff. They are so compassionate and caring," said Donna. 
Donna's cancer journey began on Christmas morning 2018. She awoke with soreness and swelling in her right breast. Initially, she thought she had pulled something, maybe while playing golf. When the swelling went down, she felt a lump in her breast. She saw her primary care doctor, Douglas Hargraves, D.O., a few days later. He referred her to Dr. Kulkarni. Donna learned that she would need two lumpectomies because her mammogram and subsequent biopsies identified cancer in both breasts. 
After the surgery, Dr. Kulkarni collaborated with two of her colleagues at the Frank and Edith Scarpa Regional Cancer Pavilion located on the campus of Inspira Medical Center Vineland. As a team, she and medical oncologist Omar Al Ustwani, M.D., and radiation oncologist Joseph Fanelle, M.D., developed a plan that included five months of chemotherapy and seven weeks of radiation treatments. 
"Dr. Al Ustwani--I couldn't pick a better doctor. He is so compassionate. He told me 'You can do this,' and I believed him. It is so important how you approach it mentally, how you go through it. Dr. Fanelle [is compassionate] as well. I liked all of my doctors. There are so many people involved in this journey and each has an essential role to play." 
Donna found the care teams in the Infusion Center and Radiation Oncology Department to be fully focused on her well-being and comfort. "They couldn't have taken better care of me. They were all top notch," she said. 
Today, Donna, an avid golfer, is out on the course as often as the weather allows. Whether playing or teaching, her passion for the game, and for life, is hard to miss. And when she shares her cancer story with others, she passes along that most precious gift--the gift of hope. Here is why Ms. Piatt and so many others have entrusted Inspira Health with their breast cancer treatment and recovery journey: 
Nationally recognized for excellence in breast cancer treatment
The Breast Center in the Frank and Edith Scarpa Regional Cancer Pavilion at Inspira Medical Center Vineland is accredited by the National Accreditation Program for Breast Centers (NAPBC), which recognizes centers that provide the highest level of quality breast care and undergo a rigorous evaluation process and performance review. 
Advanced imaging technology
Early detection saves lives. Our imaging centers provide access to digital and 3D mammograms, non-invasive ultrasound machines and breast MRI, among other technologies. 
Multidisciplinary cancer team and treatment plans
Inspira offers a breast cancer team that meets regularly to discuss each patient's treatment plan and progress. The team includes medical and radiation oncologists, breast surgeons, pathologists, radiologists and specialists in reconstructive plastic surgery, along with navigators, social workers, genetic counselors, registered dietitians, physical therapists and behavioral health specialists. 
Gilda's Club support program 
Inspira Health's on-going support programs are provided in partnership with Gilda's Club, a national organization that empowers cancer patients and survivors along with their families. Gilda's Club provides weekly support groups, individual meetings, education resources, and help Inspira's cancer services team organize complementary services such as yoga, massage, art therapy and journaling. 
Also, we connect with every woman who is newly diagnosed. 
Until we may have the chance to meet, stay safe and be well.