Meet Charles Shieh, M.D., Thoracic Surgeon and Medical Director of Lung Cancer at Inspira Health and learn how he integrates his patient-care philosophy into both his practices and advocacy for preventive treatment.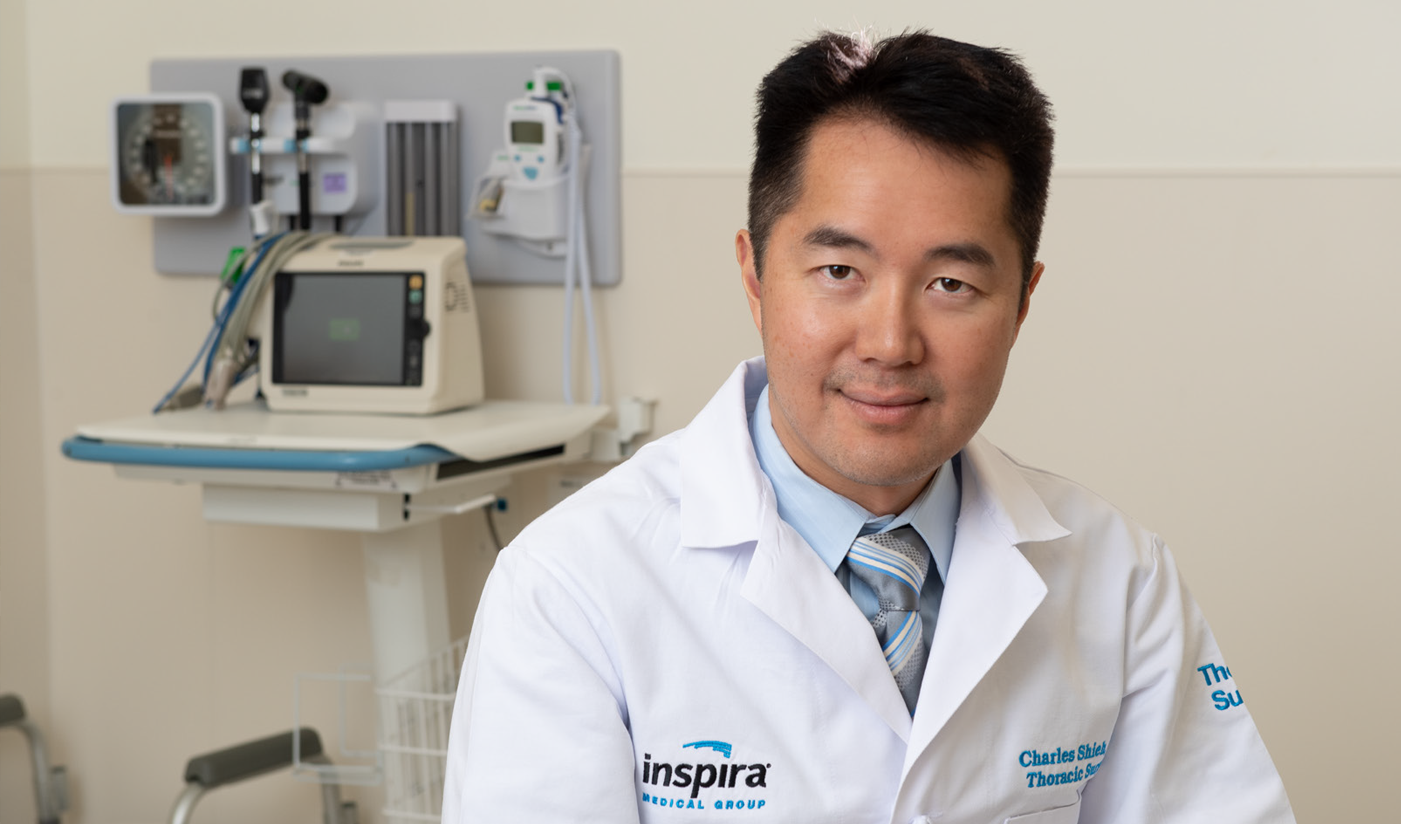 Dr. Shieh began his advanced fellowship training at Yale-New Haven Hospital intending to become an open-heart surgeon. But during that time, when studies revealed how screening to catch lung cancer early on can dramatically change survival rates, he decided to change his career to focus on lung cancer surgery. Now, Dr. Shieh is making a difference by changing the course of lung cancer—and changing the lives of patients.
Philosophy of Care
Dr. Shieh's philosophy of care is centered around one thing: the patient. "Lung cancer is one of those difficult situations," he explains. "As providers, we must consider the patient's expectations, as well as what they want out of cancer treatment. It is always a team-centered approach in terms of care for the patient."
Dr. Shieh stresses the importance of having close discussions with patients, their family and other health care providers. "It is my goal to tailor treatments and care specifically to the patient and their wishes—in addition to my particular recommendation for the individual."
Everyday there are more tools for providers to not only treat cancer patients, but also to diagnose lung cancer. Patients under Dr. Shieh's care are offered minimally invasive therapeutic as well as diagnostic procedures such as endobronchial ultrasound, navigational bronchoscopy and thoracoscopic and robotic surgery. Dr. Shieh provides services for patients at every stage of lung cancer.
Preventive Screening Advocacy
Dr. Shieh prides himself on being an advocate for lung cancer prevention and screening. "Criteria to diagnose lung cancer is broadening every day," he explains. "For example, the U.S. Preventive Services Task Force just released recommendations to expand lung cancer screening." As guidelines expand, Dr. Shieh says there must be a greater awareness of the importance of lung cancer screening. "We don't often hear about the access we have to preventive lung cancer screenings, which is the one thing that can really change the course of lung cancer."
Joining the Inspira Health Team
Dr. Shieh is excited to join the Lung Cancer program at Inspira Health. "This team is really exceptional," Dr. Shieh says. "There is so much potential to help patients in Southern New Jersey, and a promising future for lung cancer prevention and treatment."
Dr. Shieh is able to care for patients who may need assistance, such as those with mobility issues. "Instead of patients travelling long distances for diagnosis and treatment, they can get excellent care right here, around their neighborhood, with the technology and resources offered by many large academic institutions."
For any health care provider looking for information or advice about lung cancer treatment, Dr. Shieh is available to provide consultative discussions.
Dr. Shieh is available to see patients at both Inspira Medical Centers Mullica Hill and Vineland. To refer a patient to Dr. Shieh, contact his office directly at (856) 508-3845.