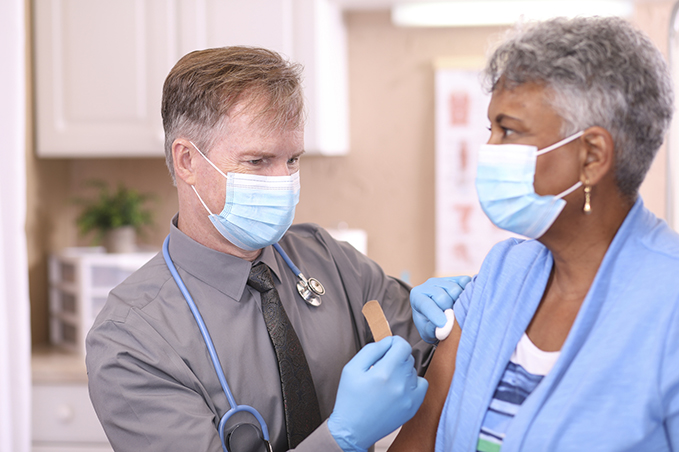 Inspira LIFE—Living Independently for Elders—is a Program of All-Inclusive Care for the Elderly (PACE) serving individuals over the age of 55 in Cumberland County and parts of Salem and Gloucester counties. Throughout COVID-19, PACE programs, like Inspira LIFE, have proven to be safer and more effective than traditional nursing homes. For example, a recent report from the National PACE Association (NPA) shows that both COVID-19 positivity rates and COVID-19-related deaths are one-third lower in PACE residents than in nursing home residents.
While the main goal of Inspira LIFE is to help participants lead independent lives at home by providing access to convenient, high-quality care, COVID-19 sparked involuntary reform. But despite all the obstacles, Inspira LIFE mobilized during a time when its community needed it most.
Deploying Immediate COVID-19 Relief
Last year, Inspira LIFE was subjected to an extraordinary task: help participants maintain their independence in a "new normal" while simultaneously devising plans to protect them against COVID-19. 
"Caring for our participants with COVID-19 restrictions in place meant we needed to combat three main issues: homebound participants, participants with mobility limitations and participants at a technologic disadvantage," said Alicia Rossi, director of operations for Inspira LIFE. "Thanks to the cross-sectional efforts of Inspira Health, as of January 27, 2021, we were able to vaccinate 188 of our participants—70 percent of the local PACE population."
Undeterred from its mission, Inspira LIFE secured vaccine appointments and scheduled transportation for every LIFE participant who wanted a vaccine. "Many of our participants experience challenges navigating the technology required to search for or schedule a vaccine, do not have a way to get to an appointment and are worried about their vaccine candidacy," said Antoinette Neugent, director of clinical services for Inspira LIFE. "By arranging vaccination appointments and transportation strictly for Inspira LIFE members, our participants didn't just feel supported. They felt safe."
Proving Resilience
Throughout the pandemic, there was no question that the safest place for participants to receive care was at home; however, meeting that need required Inspira LIFE to source and acquire the proper PPE, follow infection control guidelines, and expand the use of virtual services.
"It still amazes me how quickly we were able to shift our staff and our participants from clinic-based to home-based care. It was outstanding," said Maryann Lauletta, M.D., F.A.C.H.E., medical director for Inspira LIFE. "Overnight, we moved from clinic-based care to home-based care and coordinating vaccination arrangements. Without a doubt, this team did more than navigate the challenges of COVID-19 but steer the entire ship flawlessly."
For eligible participants, Inspira LIFE services include, but are not limited to:
Dental care
Vision care
Hearing care, including hearing aids
Podiatry
Medical and specialty care
Drug coverage 
Transportation
Medical equipment and supplies
Help with meals and nutrition
Occupational and physical therapies and equipment
Support for caregivers and family members
Home and personal care
Mental health services
End-of-life care
Hospital and nursing home stays
Services such as lab work, X-rays and surgery
24-hour access to our care team
To see if your patient is eligible for Inspira LIFE, contact an enrollment specialist today by calling (800) 245-4143, or visit us online at www.InspiraLIFE.org.