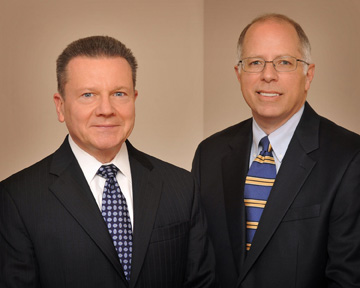 VINELAND, NJ (February 4, 2014) — Inspira Medical Group recently announced that Shaun G. Lencki, M.D. has joined Peter S. Konchak, D.O. at its Maternal and Fetal Medicine practice in Vineland to provide additional support to women in the area who are experiencing high risk pregnancy. In addition, the group has opened a new office location in Mullica Hill to meet the demand for more local maternal-fetal medicine care. 
Maternal-fetal medicine, also known as perinatology, is the medical specialty that provides care for mothers and unborn babies considered at higher risk for complications. In November 2013, New Jersey received a "B" on the March of Dimes' 2013 Premature Birth Report Card for having lowered the number of pre-term babies born for six consecutive years. However, with 11.2 percent of babies born preterm in New Jersey each year, there is still much room for improvement.
"Every pregnancy carries its risks, but with good prenatal care and support, those risks can be minimized," said Dr. Lencki. "There are some factors, however, such as age and overall health which increase a woman's chances of complications during pregnancy. At Inspira Medical Group Maternal and Fetal Medicine, Dr. Konchak and I work hand-in-hand with patients and their obstetricians to monitor any health concerns and keep both mom and baby as healthy as possible."
Dr. Lencki is board certified in obstetrics/gynecology and maternal-fetal medicine by the American Board of Obstetrics and Gynecology. He attended medical school at Georgetown University School of Medicine where he earned his degree in 1986. Dr. Lencki subsequently went on to complete his residency at Georgetown University Hospital in obstetrics and gynecology followed by a fellowship in maternal-fetal medicine, which he completed in 1992.
Prior to joining Inspira Medical Group, Dr. Lencki was the president and owner of Treasure Coast Maternal Fetal Medicine practice in Stuart, Florida since 2005. During his 21 year career as a maternal-fetal medicine specialist, Dr. Lencki was employed at several reputable medical centers across the country, published various articles for academic publications, and won several teaching awards, including a national faculty excellence award for council on resident education from the American College of Obstetrics and Gynecology.
Dr. Konchak is now seeing patients at the group's new office located in the Imaging Center at Inspira Health Center Tomlin Station in Mullica Hill and Dr. Lencki will be primarily based at the existing office located at Inspira Medical Center Vineland. For more information, please call (856) 641-7960 for the Vineland office or (856) 241-2578 for the Mullica Hill office.
Inspira Medical Center Vineland offers the region critical care for newborns through its state-of-the-art Level IIIa Neonatal Intensive Care Unit and special care nursery. Through Inspira's partnership with the renowned Nemours/Alfred I. duPont Hospital for Children, the hospital's experienced staff of neonatologists and specially trained nurses work hand-in-hand with Nemours to provide around-the-clock care for low birth-weight and critically ill infants as young as 28 weeks.
About Inspira Health Network
Inspira Health Network is a charitable nonprofit health care organization formed in November 2012 by the merger of South Jersey Healthcare and Underwood-Memorial Hospital. The network, which traces its roots to 1899, now comprises three hospitals, four multi-specialty health centers and a total of more than 60 locations. These include outpatient imaging and rehabilitation centers; urgent care; numerous specialty centers, including sleep medicine, cardiac testing and wound care; home care and hospice; and more than two dozen primary and specialty physician practices in Cumberland, Gloucester and Salem counties.
Together with its medical staff of more than 1,100 physicians and other care providers, Inspira Health Network provides evidence-based care to help each patient achieve the best possible outcome. Clinical and support staffs are focused on providing safe care in a safe environment.