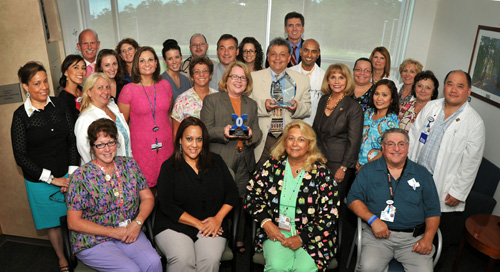 VINELAND, NJ (August 9, 2013) — Frank and Edith Scarpa Regional Cancer Pavilion at Inspira Medical Center Vineland was recently presented with the 2012 Outstanding Achievement Award by the American College of Surgeons' (ACS) Commission on Cancer (CoC) for the third consecutive time. Inspira's cancer center is one of a select group of only 79 U.S. health care facilities with accredited cancer programs to receive this national honor for surveys performed last year. The award acknowledges cancer programs that achieve excellence in providing quality care to cancer patients.
"Since the earliest days of Inspira's cancer program—going all the way back to the late 1970s—our cancer team's commitment to clinical and service excellence has been unwavering," said Dave Robbins, chairman of the hospital board for Inspira Medical Centers Elmer and Vineland and Health Center Bridgeton. "To maintain this level of excellence for so many years speaks volumes about their skills, expertise and dedication."

The purpose of the award is to raise awareness on the importance of providing quality cancer care at healthcare institutions throughout the U.S. In addition, it is intended to:
Motivate other cancer programs to work toward improving their level of care.
Facilitate dialogue between award recipients and healthcare professionals at other cancer facilities for the purpose of sharing best practices.
Encourage honorees to serve as quality-care resources to other cancer programs.Educate cancer patients on available quality-care options.
The cancer program at The Frank and Edith Scarpa Regional Cancer Pavilion at Inspira Medical Center Vineland was evaluated on 29 program standards categorized within one of four cancer program activity areas: cancer committee leadership, cancer data management, clinical services and quality improvement. Our program was further evaluated on eight commendation standards. To be eligible, all award recipients must have received commendation ratings in seven commendation standards, in addition to receiving a compliance rating for each of the 29 other standards. 
"As our cancer program here in Cumberland County continues to grow, with new services and specialists coming on board, our cancer team's commitment only grows stronger," said Robbins. "And, with an award-winning cancer program right here in the community, area residents can take pride and comfort in knowing that they have such a fine cancer program close to home."
For a list of all cancer programs in the U.S. that received the award in 2012, visit Outstanding Achievements of 2012
About Inspira Health Network
Inspira Health Network is a charitable nonprofit health care organization formed in November 2012 by the merger of South Jersey Healthcare and Underwood-Memorial Hospital. The network, which traces its roots to 1899, now comprises three hospitals, four multi-specialty health centers and a total of more than 60 locations. These include outpatient imaging and rehabilitation centers; urgent care; numerous specialty centers, including sleep medicine, cardiac testing and wound care; home care and hospice; and more than two dozen primary and specialty physician practices in Cumberland, Gloucester and Salem counties. Together with its medical staff of more than 1,100 physicians and other care providers, Inspira Health Network provides evidence-based care to help each patient achieve the best possible outcome. Clinical and support staffs are focused on providing safe care in a safe environment.
Inspira's Frank and Edith Scarpa Regional Cancer Pavilion is a Fox Chase Cancer Center Partner. Since becoming a Fox Chase Cancer Center Partner in 1995, Inspira has developed an active clinical trials program and maintains a collaborative relationship with researchers and physicians at Fox Chase. Patients seeking a second opinion and in need of tertiary cancer care are guided to Fox Chase and back through an experienced, oncology certified nurse referral coordinator. About the American College of Surgeons' Commission on Cancer/Accreditation Program
Established in 1922 by the ACS, the CoC is a consortium of professional organizations dedicated to improving patient outcomes and quality of life for cancer patients through standard-setting, prevention, research, education and the monitoring of comprehensive quality care.  The CoC provides the public with information on the resources, services and cancer treatment experi-ence for each CoC-accredited cancer program.  The CoC's accreditation program encourages hospitals, treatment centers, and other facilities to improve their quality of patient care through various cancer-related programs.  For more information on the CoC, visit: www.facs.org/cancer/index.html.