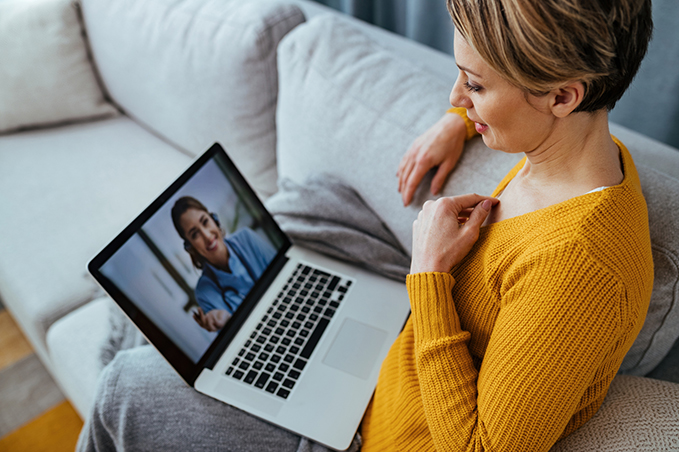 COVID-19 has disrupted daily life; now, COVID-19 vaccines are helping communities return to some semblance of pre-pandemic times. While many cannot wait to leave the "new normal" behind, some COVID-19 related changes, such as Inspira's behavioral and mental health telehealth services, are here to stay.
Delivering Behavioral Health Services During COVID-19
At the beginning of the pandemic, telehealth allowed behavioral and mental health care clinicians to break through communication barriers with patients; now, it's changing the future of behavioral and mental health services in South Jersey.
"When in-person appointments were first restricted, and when wearing masks made it difficult to read body language, we were forced to use telehealth. We didn't have a choice," said Joseph O'Brien, M.B.E., M.S.W.M., L.S.C.W., a clinical social worker at Inspira's Behavioral Wellness Center. "However, even though in-person appointments are still limited, telehealth has helped us not only regain the personality that once existed in our sessions, but also bond with patients on a whole new level."
Instead of patients stressing about making it to the office, therapy fits into their lifestyle. No matter where they are, patients can access their team of health care specialists. "Many of our patients have said, 'If telehealth didn't exist, I would not be getting treatment right now.' Telehealth has helped bridge the gap between individuals who are feeling emotionally distressed, especially during COVID-19, and accessible health care," said Darren McMahon, L.C.SW., L.C.A.D.C., outpatient manager for the Wellness and Recovery Outpatient Program Woodbury.
Navigating the Emotional Challenges of COVID-19
COVID-19 has further isolated people who may have suicidal thoughts or hurt themselves. 
"Suicidality in the Bridgeton area, in teens specifically, is off the charts. Our job is to make sure our patients are safe. When a patient is in our office, we are in control and can do a warm handoff to the crisis unit. Now, if someone says they have suicidal ideation, we have procedures in place to handle those situations virtually," said O'Brien.
Since the onset of COVID-19, clinicians are required to ask and confirm a patient's location. If a patient expresses suicidal thoughts and stays in the virtual session, Inspira's clinicians can deescalate the situation; however, if a patient abruptly ends the session after voicing life-threatening comments, clinicians are obligated to call 911 and give the patient's location. 
Telehealth also allows clinicians to check in with family members or roommates in a time of need. "In pre-COVID times, if a patient discussed self-harming thoughts, we would create a plan about who to talk to and what to do if they were not in a clinical setting. Now, if a patient presents these concerns, we are able to speak directly with other people living in the house and make a plan together and in real-time," said McMahon.
Initiating the Mental Health Conversation
Not only is telehealth a newer way to provide mental health services at Inspira, but many clients enrolling in Inspira's behavioral and mental health services are also first-time therapy users. Since 2018, the Wellness and Recovery Outpatient Program Woodbury has seen a 24 percent increase in enrollment. Following telehealth implementation, clinicians have also reported the quality of conversations with patients has increased.
"In January of 2020, we discussed starting a telehealth trial with just one patient and one clinician. Little did we know that a few weeks later, the entire organization would need to move to telehealth. Now, we know it's more than functional. It's working," said David Moore, R.N., M.S.N., BC, executive director of Mental Health Services at Inspira Health.
The ideal participant for Inspira's behavioral health telehealth services is anyone looking to gain more emotional and behavioral stability. For more information, or to refer a patient, call 856-575-4111.