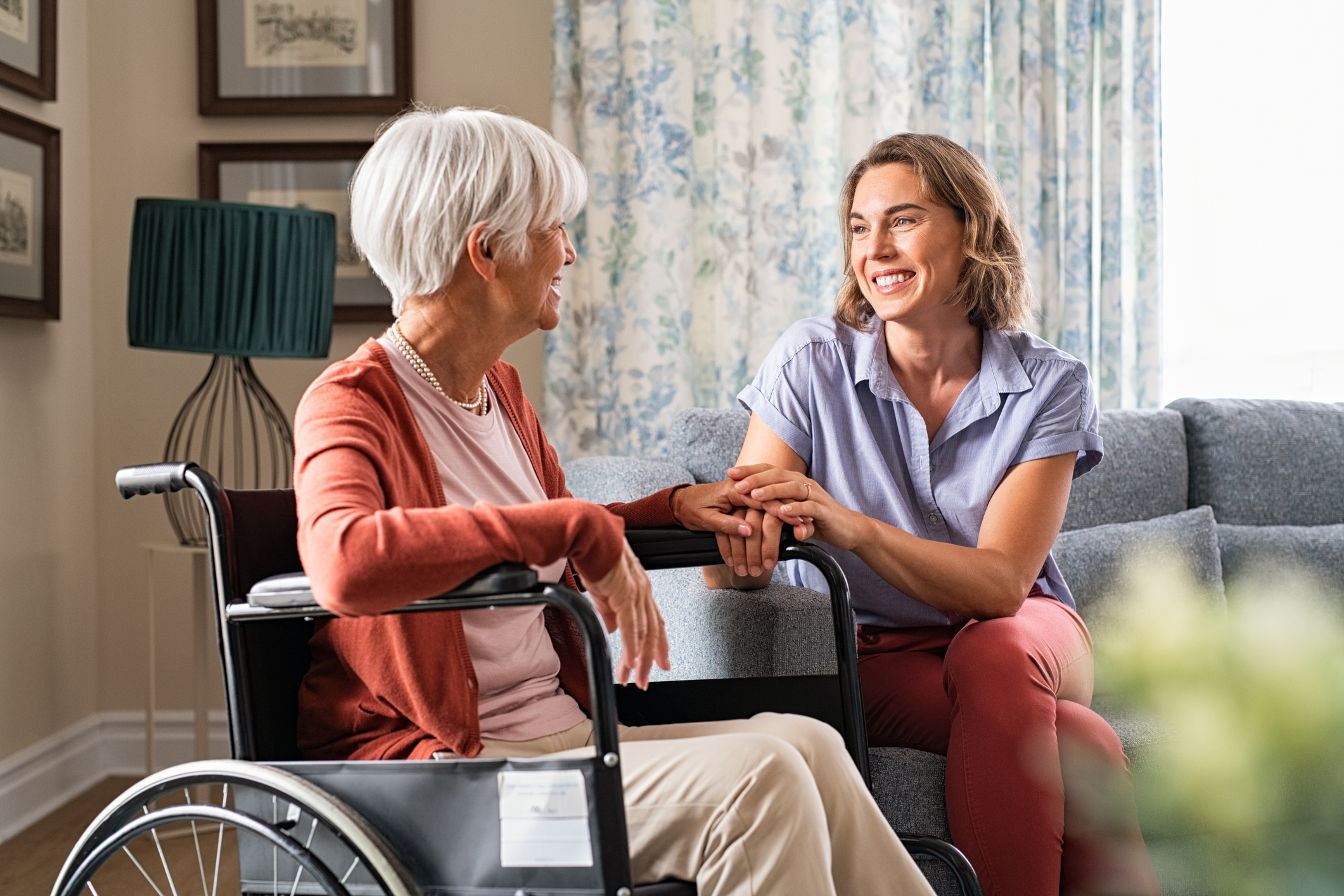 The number of family caregivers has increased from 43.5 million in 2015 to 53 million in 2020. And that number has likely continued to rise during 2021 as the pandemic continues. 
Studies show that 17 percent of caregivers feel that their physical health has declined as a result of their responsibilities and about 40 to 70 percent have clinically significant symptoms of depression. Caregiver burnout is a common occurrence among those with caregiving responsibilities, but it's important to know that there is help available for your caregiving patients. 
What is Caregiver Burnout? 
Caregiver burnout happens for a number of reasons, but most of them center around a buildup of stress due to caregiving responsibilities. "Burnout is really a state of mental, emotional and physical exhaustion that can change the attitude of caring for someone from positive to negative or unconcerned," said Barbara Roehl, M.D., medical director at Inspira LIFE, a Program of All-Inclusive Care for the Elderly (PACE). "It's not only damaging to caregivers themselves but can also be harmful to the people they care for." 
Stressors can impact caregivers' lives in unpredictable ways. Caregivers must manage a day-to-day routine for their loved ones, including administering medications and cooking meals, but they also deal with unexpected circumstances like sudden falls or injuries. In addition, caregivers are faced with helping to pay medical co-pays and deductibles, medications and supplemental care, leading to financial stress on top of any existing emotional and physical exhaustion. 
For patients who are caregivers, it's important to look out for symptoms of burnout such as loss of interest in things they used to enjoy, feelings of sadness, irritability, hopelessness and changes in appetite and sleep. 
Caregiver Burnout During COVID-19 
The COVID-19 pandemic has put a unique strain on many caregivers. "Unfortunately, the caregiver burden has increased during the pandemic," said Dr. Roehl. "Caregivers have experienced more negative effects because of the responsibilities they continue to bear during a time of extreme isolation and difficulty obtaining services for their loved ones." 
During the COVID-19 pandemic, caregivers were more likely to report preoccupation with concerns about exposing their loved ones to the virus. And while many of us were isolated, caregivers, in particular, felt the burden of this isolation more deeply with more frequent symptoms of depression, anxiety, fatigue and lack of sleep. 
Addressing and Treating Burnout
It's important for providers to offer support to their caregiving patients. "Caregivers often feel guilt for taking time away from their day-to-day responsibilities but, in reality, those who don't take care of themselves can't be effective caregivers for others," said Dr. Roehl. "We need to encourage caregivers to make time for the things they need to live healthy, happy lives, including adequate sleep, meals, exercise and respite."
Besides taking time for themselves, caregivers should also focus on their mental health. Encourage caregiving patients to join a support group—having a group of peers who can relate to their struggles is essential to avoiding isolation and burnout. In addition, caregivers should set realistic goals and boundaries. "Advise your caregiving patients to ask themselves: What are the limits I have, and what can I call on family, friends or other resources to help with?" said Dr. Roehl. 
Lastly, caregiving patients should know that it's okay to seek help and treatment for anxiety and depression. "We want to address our patients' individual mental health needs, which includes discussing medical treatments or referring to behavioral therapy," said Dr. Roehl. "It's easy to overlook the burden that many caregivers take on, so it should be on your list to check in with caregiving patients every time you see them. Being a caregiver can be stressful, and a provider's words of empathy, compassion, encouragement and validation can be really meaningful." 
How Inspira LIFE Can Help 
Inspira LIFE can provide support and resources to ease the burden of caregiving. Inspira LIFE's primary mission is to keep elders independent and living in their community with a good quality of life. Eligible LIFE participants can have access to services and support including: 
LIFE Center services (meals, exercise and fun activities)
Dental, vision and hearing care
Medical primary and specialty care
Drug coverage
Transportation
Medical equipment and supplies
Help with meals and nutrition
Occupational and physical therapies and equipment
Home and personal care
Mental health services
End-of-life care
Hospital and nursing home stays
Services such as lab work, X-rays and surgery
24-hour access to our care team
"The support that Inspira LIFE gives can take some of the stress away from caregivers," said Dr. Roehl. "For each participant, there is an interdisciplinary team reviewing their care plan on a regular basis, so caregivers know they're getting the best care for their loved ones." 
In addition to services for patients, Inspira LIFE is also one of the only PACE programs in the country to offer behavioral wellness and social work resources to assist caregivers who are struggling with their responsibilities. 
To qualify for services at Inspira LIFE, an individual must be over the age of 55; live in Cumberland, Gloucester or Salem County; meet a nursing facility level of care; and be safe in their home at the time of enrollment. To refer patients to the Inspira LIFE program, call 856-418-5433 and press option 3, or email LIFEEnrollment@ihn.org.