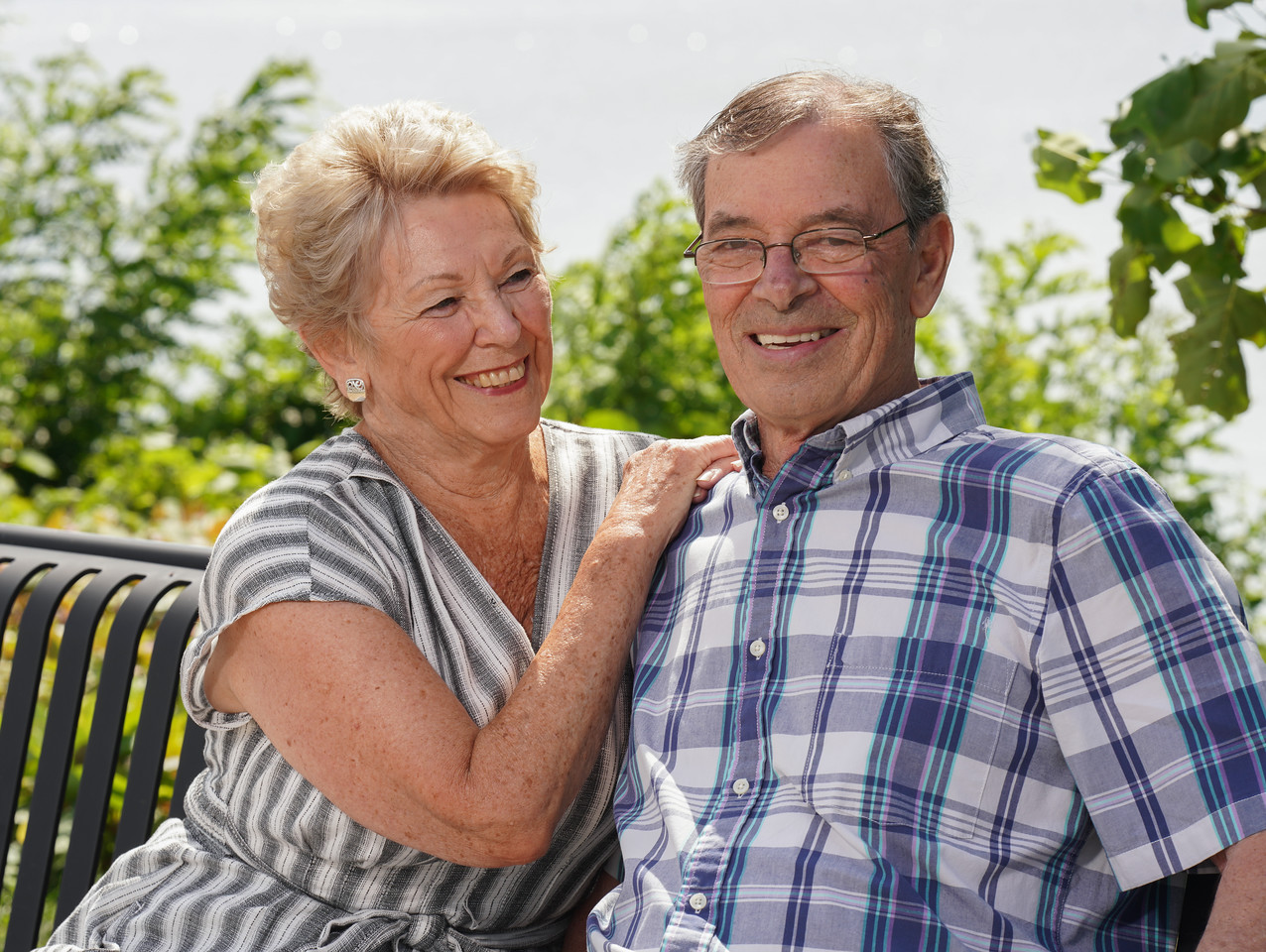 Mike Totten and his wife Lorraine have been married for more than 52 years and consider themselves healthy active seniors. So on March 23, Lorraine was "dumbfounded" when the doctor told her that Mike had experienced a heart attack and was having an emergency intervention in the Cath Lab. She recalls thinking, "A heart attack, that's something we had never considered."
 
The clues had begun the day before, but didn't include chest pain, the classic – but sometimes absent – alarm bell that one's heart is under attack. Mike had shoulder pain, but blamed it on hours of leaf blowing. He was convinced the constant vibration from the blower had caused the pain. Even when the pain woke him at 4 a.m., he didn't think much of it and decided not to wake Lorraine.
 
When Mike returned to bed two hours later, Lorraine asked, "Where were you?" He explained that he had gone downstairs because the pain in his shoulder had woken him. He thought it was muscle pain; Lorraine didn't have reason to doubt him. They went about their morning and then out to lunch. Mike had a lobster roll sandwich. A quick shopping trip followed.
 
When they got back to their home in West Deptford, Mike went outside for more leaf blowing and Lorraine went for a walk. Before she returned, Mike went inside because he experienced pain across his shoulders. Fortunately, Lorraine cut her walk short. Arriving home, she found Mike sitting down and thought he was sleeping. Not alarmed, she made a phone call. Seconds later Mike told her she better hang up. That was the moment when Lorraine became worried that Mike was experiencing something more serious than muscle pain. She called 911. He remembers the ambulance arriving, but at some point on the brief ride to the hospital Mike lost consciousness. He has no recollection of arriving at the ER or what took place during his first 48 hours at Inspira Medical Center Mullica Hill. For Lorraine, a detailed account of those days is etched deep in her mind.
Mike underwent life-saving emergency angioplasty to open a clogged coronary artery that was blocking the flow of oxygen rich blood to his heart. And then a stent was placed to ensure the artery would remain open. These procedures, also known as PCI (percutaneous cardiac intervention), take place hundreds of times a year at Inspira Mullica Hill and Vineland hospitals. Mike's interventional cardiologist has performed coronary interventions more than 3,000 times. The faster a coronary artery is reopened, the less damage occurs in the heart muscle. Had Mike recognized the signs earlier -- and gotten to the hospital sooner -- his condition would likely have not become so critical.
 
Lorraine was filled with disbelief and fear. They had both been healthy, living a life younger than their years. She remembers the somber message from the cardiologist, that survival was now up to Mike, and how the next 12 hours would be critically important. It wasn't until day three, as the doctor came to see her, that she knew things were getting better. She knew, even before the doctor said a word.  Lorraine could read the cardiologist's body language; he was bringing better news. 
 
From the beginning, Lorraine was confident that her husband was in good hands. Dr. Ali Unwala, an Inspira physician and member of Cardiac Partners, was an experienced and respected interventional cardiologist whom she had known for 32 years. In fact, she had been employed by his practice, and both she and Mike had enjoyed the doctor's company at social gatherings over the years. But this was very different, it was the first time they saw Dr. Unwala while in the roles of patient and concerned loved one. This gave Lorraine a first-hand view of the compassionate bedside manner that Dr. Unwala has been known for during his long career. And during Mike's hospital stay, they experienced kindness and compassion throughout the hospital.
"Everybody was so kind, the ER doctors and nurses, so compassionate," said Lorraine. "The nursing staff was outstanding. He [Mike] can't say enough about them."
Mike was in the hospital for nine days, though he only recalls seven of them. Upon arriving home, he was able to walk and go up the stairs, but was certainly in a weakened state. He entered Inspira's cardiac rehab in mid-April and has since regained much of his strength and stamina. He went back to his part-time retirement job as parking attendant at Budd Funeral home in late June. 
Not surprisingly, this experience has changed the way Mike and Lorraine would respond if a similar situation were to occur in the future. If pain were to awaken him in the night, he won't quietly go downstairs without waking Lorraine. Likewise, Mike won't brush off pain in his shoulders just because it isn't accompanied by chest pain. And Mike won't forget what Dr. Unwala told Lorraine, "Shoulder pain is his [Mike's] chest pain."
Mike's experience serves as a reminder that not everyone experiences crushing chest pain during a heart attack. The CDC recognizes the following major symptoms and emphasizes that symptoms can vary greatly from one person to another.
The major symptoms of a heart attack are:
Chest pain or discomfort. Most heart attacks involve discomfort in the center or left side of the chest that lasts for more than a few minutes or that goes away and comes back. The discomfort can feel like uncomfortable pressure, squeezing, fullness, or pain.
Feeling weak, light-headed, or faint. You may also break out into a cold sweat.
Pain or discomfort in the jaw, neck, or back.
Pain or discomfort in one or both arms or shoulders.
Shortness of breath. This often comes along with chest discomfort, but shortness of breath also can happen before chest discomfort.
Other symptoms of a heart attack could include unusual or unexplained tiredness and nausea or vomiting. Women are more likely to have these other symptoms.