Managing diabetes can be complex—from checking blood sugar, preparing healthy food, staying active, taking medicine and going to doctor's appointments, you have a lot on your plate. Although your feet might not be top of mind, caring for them is a great way to prevent further complications.
What is Diabetic Foot Care?
Foot complications are commonly experienced by individuals with diabetes, gradually occurring as elevated blood sugar levels impair the nerves and blood vessels in the feet. Diabetic neuropathy, the resulting nerve damage, may lead to symptoms such as numbness, tingling, pain or a diminished sense of feeling in the feet. Reduced blood flow to the feet can also make it harder to heal from an injury or resist infection.
Foot-related complications stemming from diabetes can include athlete's foot, fungal infection of nails, calluses, corns and diabetic ulcers.
You may be at risk for experiencing diabetic foot pain if you have blood sugar levels that are hard to manage or have had diabetes for a long time, especially if your blood sugar is often higher than your target levels. Other risk factors include high blood pressure, high cholesterol, high BMI and ages above 40 years.
How are Diabetic Foot Conditions Diagnosed?
Initial symptoms of various diabetic foot conditions include tingling, burning or pain in your feet. You may also experience loss of sense of touch or ability to feel heat or cold very well, changes in the shape of your feet over time, and loss of hair on your toes, feet and lower legs.
To diagnose diabetes-related foot conditions, your health care provider will ask about your symptoms and how well you manage blood glucose and examine your toes, feet and legs. They will also touch the toes, feet and legs with various tools to check whether you have numbness.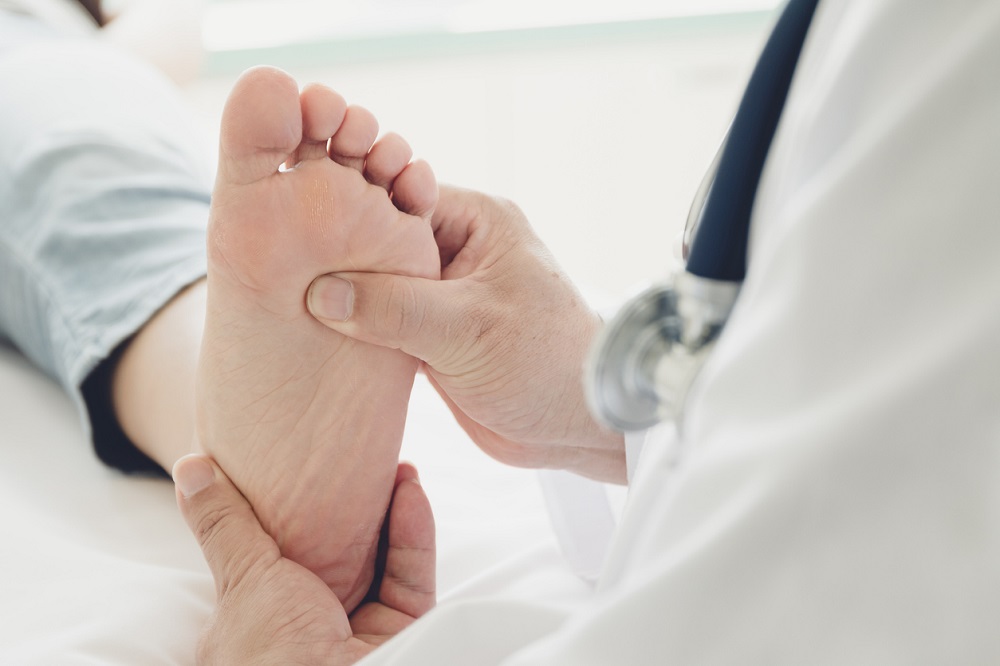 How are Diabetic Foot Conditions Treated?
The goal of treatment is to promote wound healing, prevent infections, relieve symptoms and reduce the risk of complications to ensure the best possible foot health for individuals with diabetes. Treatment options depend on the specific condition and severity and often involve a multidisciplinary approach that may include the following:
three
Wound Care and Infection management
Treatment may include cleaning and dressing the wound, removing dead tissue (debridement) and applying topical antibiotics or antimicrobial agents.


Offloading Pressure
Patients may be advised to wear specialized footwear such as custom shoes with molded inserts and custom orthotics or use assistive devices to reduce pressure on the foot, alleviating pain and preventing further damage.
Glycemic control
Maintaining optimal blood sugar levels through diet, exercise and medication helps to improve circulation, reduce nerve damage and promote the healing of diabetic foot ulcers.
Our Approach to Diabetic Foot Care
At Inspira, we understand that managing diabetes is a complex, evolving process and worrying about foot health can add to that stress. Our podiatrists are here to work with you to find the best solution or treatment to ease your symptoms and get you back to normal life—whether that involves regular check-ups, prescriptions for custom orthotics or lifestyle changes to help manage your blood sugar. Help from Inspira is never far with offices and treatment centers conveniently located across the South Jersey region.
Frequently Asked Questions