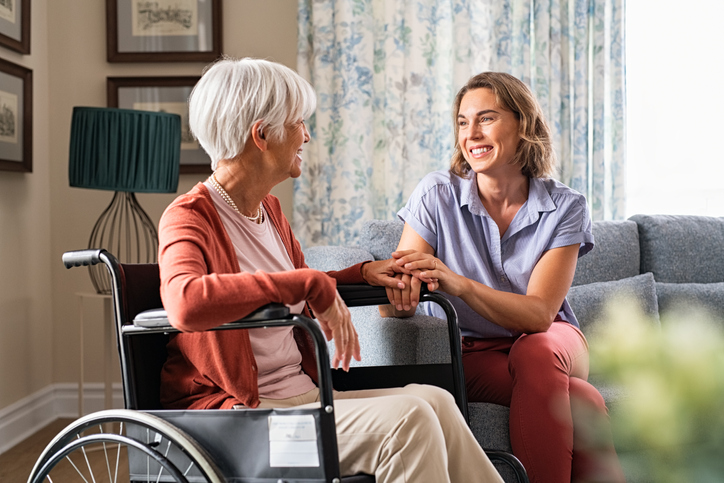 Each year, nearly 15 million people spend their days providing care to an older adult, often a family member. For those who function as a caregiver in addition to a full-time job and other responsibilities, the level of emotional and physical stress can be overwhelming. 
Many of these caregivers are tasked with taking care of an aging adult living with Alzheimer's disease. Being an Alzheimer's caregiver can present a special set of challenges, because a caregiver's role changes as the disease progresses. 
Maintaining a healthy and positive lifestyle is essential to providing good care to a loved one with Alzheimer's. This starts with taking care of yourself first. Here are some of the best methods to keep yourself happy and healthy:
Plan Your Breaks
A key part of caring for someone other than yourself is knowing when you need a break. A well-timed day off can be beneficial for both you and the person you're taking care of, as it refreshes your energy levels and allows you to reset mentally. One way to ensure that your loved one continues to get cared for while you rest is respite care. Respite care is when a trained caregiver steps in to fill your shoes and provide care while you relax.
Explore Support Groups
The caregiver community is a large one that spans across the country, with support groups available for all different types of caregivers. Check with your local church, community center or assisted-living center to see if they offer support groups focused on Alzheimer's caregivers. Support groups can be a great way to discuss your caregiving experiences and challenges with people in a similar situation as you. 
Set Realistic Goals
There is currently no known cure for Alzheimer's, and the disease will continue to progress as you care for your loved one. Because of this, it's important that you do not aim to cure the person you're taking care of. As Alzheimer's progresses, your goals for providing care should gradually change. In early stages of the disease care is focused on providing support, both physically and mentally. As the disease progresses, care turns towards focusing on preserving quality of life towards the later stages. 
Don't Forget Your Own Needs
It can be very easy to get caught up in taking care of someone you love, but it's incredibly important to remember that you need to be in the best health possible when taking care of them. You should still try to carve out time to do the activities you love, as well as time to spend with your family and friends. Both you and the person that you're taking care of will be better off for it. 
Keep Learning
Breakthroughs in Alzheimer's research—and care techniques—are occurring every day. Keeping up with developments can help you provide the best care for your loved one in the most efficient way.
If you or a loved one is showing signs of, or has been diagnosed with, Alzheimer's or dementia, Inspira LIFE may be a fit for you. To qualify for services at Inspira LIFE, an individual must be over the age of 55; live in Cumberland, Gloucester, or Salem County; meet a nursing facility level of care; and be safe in their home at the time of enrollment.
To learn more about Inspira LIFE, visit www.InspiraLIFE.org.