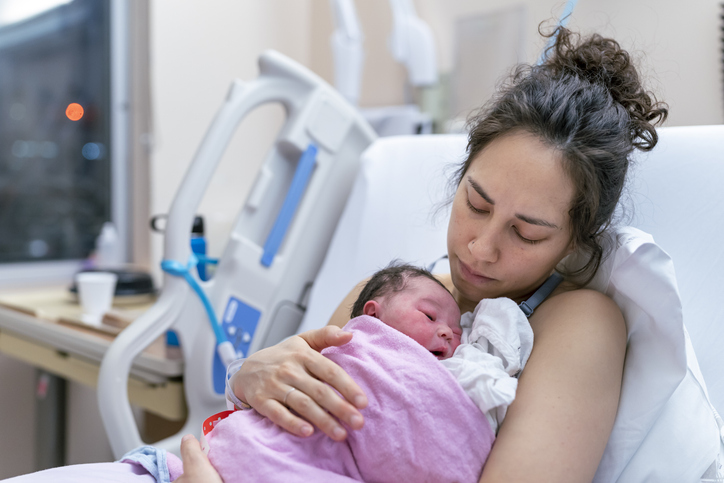 In the United States, nearly 80 newborns are diagnosed with neonatal abstinence syndrome (NAS) every day. Historically, this condition is treated by introducing and then slowly weaning infants off of prescription medication. But recent studies have shown that there's a better way to treat newborns with NAS—Eat, Sleep, Console (ESC). ESC is a method that reduces the use of pharmaceutical treatment in newborns by leveraging human touch instead. This allows the family to take an active part in their own child's care and only uses medication on an as-needed basis. 
Inspira is dedicated to patient safety and evidence-based practices and is proud to offer the ESC method to maternity patients at our hospitals. 
The link between neonatal abstinence syndrome and opiate use
"There is a misconception that infants with NAS are always born to people who are taking illicit drugs," said Ashish Gupta, M.D., M.B.A., F.A.A.P., C.P.E., chief of Neonatology from Nemours Children's Health at Inspira Medical Centers Vineland and Mullica Hill. "But a majority of the infants with NAS are born to people who are taking prescribed medications." 
Babies with NAS may present with jitteriness, excessive crying, irritability, sleep problems, feeding difficulties, sweating, fever, rapid breathing and more. If the condition persists, it can cause seizures, vision problems, hearing problems and neurodevelopmental delays in the future. 
What is the Eat, Sleep, Console method?
ESC is a modern, family-centered approach to caring for infants with NAS. It starts with non-pharmaceutical methods of caring for the baby—feeding them on demand, consoling them when they are irritable and letting them sleep in between feeding as much as possible. "With this method, we're treating the baby as a baby, not as a patient—providing comfort instead of medications," said Dr. Gupta. 
If non-pharmaceutical interventions are not effective, medication can be used on an as-needed basis, but the length of exposure to medication is much less than traditional NAS treatment. 
Benefits of the Eat, Sleep, Console method 
Infants with NAS treated with traditional methods typically stay in the NICU for a long period of time—an average of 15 to 20 days. But with ESC, the family takes an active role in caring for their child. Most babies treated with the ESC method are able to go home after five to seven days in the hospital, and without a stay in the NICU. 
"A hospital isn't the best place for a baby's development," said Dr. Gupta. "The ESC method is beneficial because they can stay with their families and go home sooner, they're being exposed to less medication. This is a great example of a value-based care approach in medicine—improved quality at a lower cost." 
Talking to pregnant patients about opioid use and ESC
A healthy pregnancy starts early on, so it's important to talk to patients who are currently pregnant or hoping to become pregnant about their health. Whether a patient is taking a prescribed opioid or illegal drugs, treat them with empathy and understanding. "Not everyone uses these drugs or medications by choice," said Dr. Gupta. "Instead of approaching patients from a place of judgment, focus on shifting their energy to taking care of the baby' whether that means cutting down on opioid use or simply giving them resources for pregnancy support." 
Talk to pregnant patients struggling with opioid use about the ESC method early on in their pregnancies. "Patients should be aware that our philosophy centers around the family's participation in their newborn's care," said Dr. Gupta. 
To refer a patient for a consultation with the Neonatology team about ESC after birth, contact Maternal-Fetal Medicine (MFM). 
Maternal-Fetal Medicine Mullica Hill: (856) 508-3625
Maternal-Fetal Medicine Vineland: (856) 641-7960