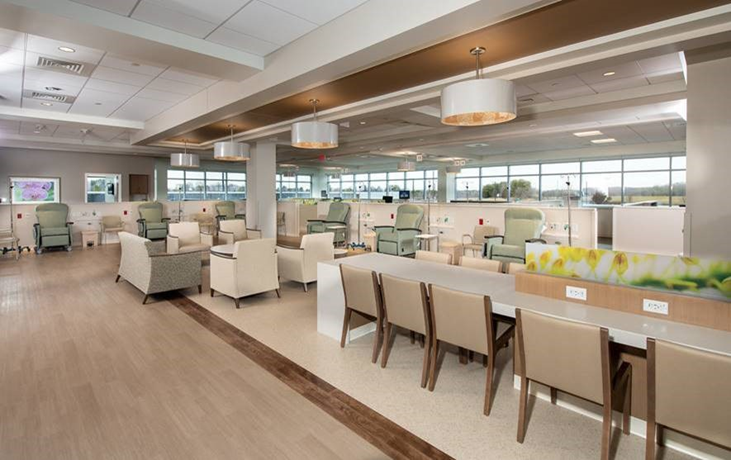 Inspira Health strives to make health care as simple and effective as possible. That is why Inspira's Infusion Centers offer comprehensive infusion services in supportive, healing environments. The centers are convenient and designed to meet the needs of patients with cancer or patients who need infusions for other medical reasons. Here's what to know about infusion therapy at Inspira:
1. Inspira provides outpatient infusion therapy for cancer and non-cancer patients
Inspira's Infusion Centers can accommodate patients who require recurring transfusions or non-emergency transfusions in the outpatient setting. "Oftentimes, providers will see severely anemic patients in the office, but that patient may not be sick enough to go to the emergency room. That patient can come to the Infusion Centers for outpatient transfusions if they are clinically stable, and receive their treatment in a more relaxed and comfortable environment." said Erev Tubb, M.D., F.A.C.P., medical director of the Leading-Edge Cancer Center at Inspira Medical Center Mullica Hill.
The most common health issues treated at the Infusion Centers include:
Anemia
B12 deficiency
Crohn's, colitis and other gastrointestinal disorders
Kidney disorders
Respiratory issues
Rh prevention
Myelodysplasia (MDS)
Neurological disorders
Platelet deficiency
2. There is always a physician on-site 
Inspira's Infusion Centers have a physician on-site at all times to provide intervention in the rare event a problem occurs. "Transfusions don't always need to be done in the hospital. If your patient suffers from anemia, for example, they may not be prioritized walking into the emergency room depending on the acuity levels of other patients. At the Infusion Centers, patients can feel relaxed knowing they are more than a number, and after their session they can go right home," said Dr. Tubb.
3. Inspira provides a first-class patient experience
Inspira's Infusion Centers put excellent patient experience at the forefront of care. Patients are able to receive treatment in private pods equipped with TVs and internet access..
"This is a relaxed environment. All patients have their own pod, can tune in and out and doze off to sleep. We also have private rooms for people who want to work or have privacy," said Jami DeNigris, administrative director of Cancer Services at Inspira Health.
Inspira offers an interdisciplinary team of qualified nurses and pharmacy technicians on-site, which helps to reduce wait time. "As soon as the patient is ready, nurses can begin the infusion within minutes because we have quick access to medicine. Our nurses are experienced in handling complex infusions, and coupled with our on-site pharmacy, patients have a seamless experience from start to finish," said DeNigris.
4. Scheduling is easy
Providers can feel confident knowing Inspira offers a seamless referral process via phone or fax, and can even accommodate same-day appointments. "We make it as easy as possible to offer services to any patient. If you don't have privileges at the hospital, that is not a limitation for us," said DeNigris. 
In addition to clinical offerings, the Infusion Centers provide access to social workers, financial assistance and transportation. With Inspira Go, Inspira's team can coordinate free transportation to and from appointments for patients. 
For more information about the Infusion Centers, or to refer a patient, call:
Leading-Edge Cancer Center (Mullica Hill)
856-508-3577
Frank and Edith Scarpa Regional Cancer Pavilion (Vineland)
856-641-8670