Inspira Health Center Bridgeton
333 Irving Avenue,
Bridgeton, NJ 08302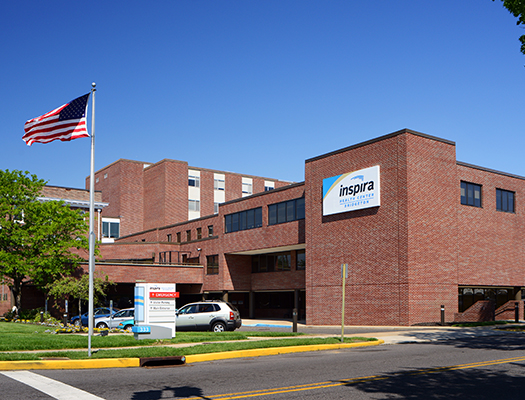 View Details
Get Directions
Additional Hours
Physical / Occupational / Speech Therapy
About Us
Inspira offers both emergency services and outpatient services in what was formerly Bridgeton Hospital. In continuing its mission to provide the most comprehensive imaging services to the community, Inspira Health has acquired an advanced digital mammography system at both the Inspira Medical Center Vineland in Vineland and the Inspira Health Center Bridgeton.
Emergency Services
The emergency room at Inspira Medical Center Bridgeton is open 24 hours a day, 7 days a week. Patients who must be admitted to a hospital will be transferred to the Inspira Medical Center Vineland.
Outpatient Services
Closed Holidays
Appointments and Pre-registration are available for the following services:
Lab and Radiology Services
Including General radiology, Ultrasound, CT, DEXA: Monday-Friday 8am to 12pm
Digital Mammography: Monday-Friday 7am to 2:30pm
For Lab and Radiology pre-registration and appointments:
Monday-Friday: 7:00 am - 2:30 pm
Call 856-575-4887
Fax 856-451-6998 
Physical / Occupational / Speech Therapy
Appointment and pre-registration - call 856-575-4585
Dialysis
For More Information, call 856-575-4200
Behavioral Health Services
Inpatient Program for Children and Adolescents
Child and Adolescent Intermediate Inpatient Program
Therapeutic Nursery, Child and Adolescent Partial Hospital and Intensive Outpatient Programs
Inpatient Programs for Adults
Adult Partial Hospitalization Programs
Adult Intensive Outpatient Program
Wellness and Recovery Outpatient Program
To make an appointment or to refer a patient, call our Behavioral Health Access Counselors at 1-800-INSPIRA or request an appointment online.