Not all weight loss surgeries are permanent. If you're looking for a reversible yet effective option, laparoscopic adjustable gastric band surgery (also known as lap band surgery) may be right for you. Inspira offers this minimally invasive option for those who are looking to improve their quality of life.
What is Laparoscopic Adjustable Gastric Band (Lap Band) Surgery?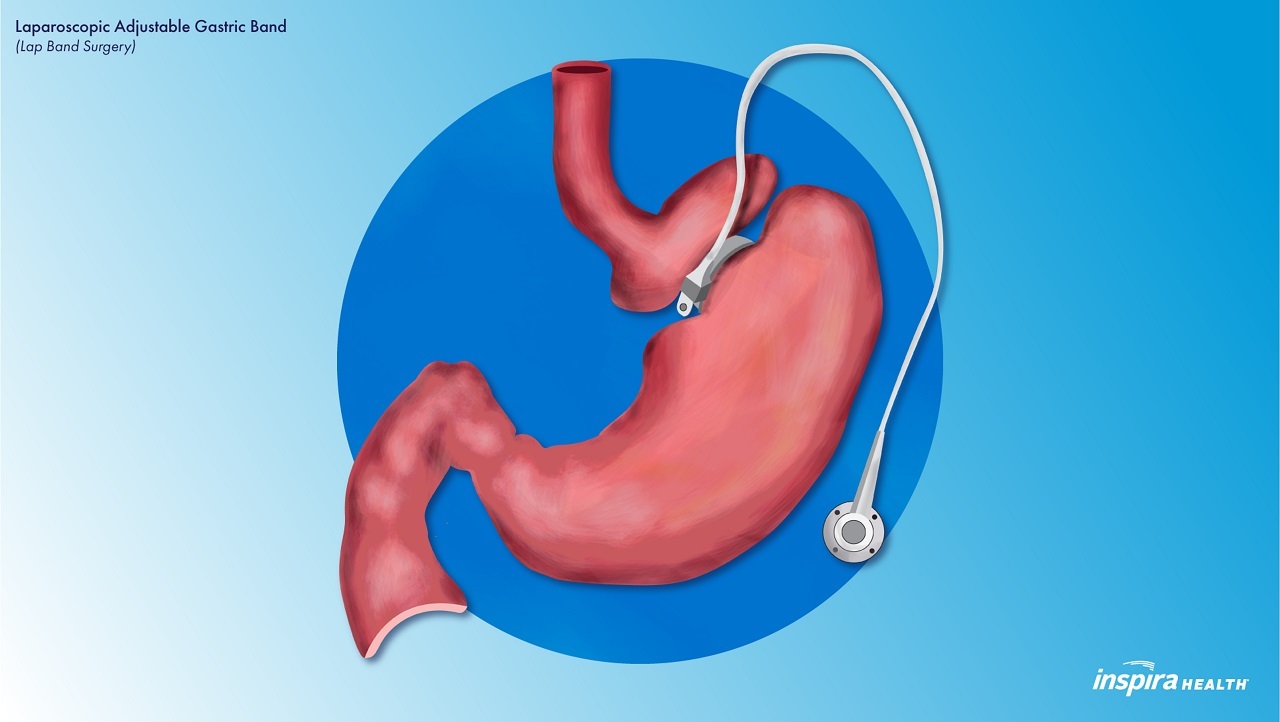 Lap band surgery is a procedure in which an inflatable silicone band is placed around the top portion of your stomach. Your physician can adjust the size of your pouch over time through a port placed under the skin, shrinking your stomach and promoting weight loss over time. The upper part of your stomach will fill up faster when you eat, making you feel full while eating smaller portions of food.
Your doctor will leave a small outlet between the upper portion of your stomach and the lower portion, allowing your food to be slowly digested without permanently dividing your stomach. By using a laparoscopic approach, lap band surgery at Inspira results in shorter post-operative hospital stays, fewer complications, less pain and faster recovery than traditional surgery. And our weight management providers, dietitians and peer support groups ensure that you have a lifetime of support keeping the weight off.
How Does Laparoscopic Adjustable Gastric Band (Lap Band) Surgery Work?
During this procedure, your surgeon will make a few small incisions to access your stomach and place the band around it using a laparoscope, a thin tool with a camera attached to it. This inflatable band is connected to a port that is placed under your skin. To inflate the band and make the upper portion of the stomach smaller, your physician will inject saline fluid through the port.
The lap band procedure has a low rate of complications and can be removed if needed. About 60 percent of people have their gastric bands removed after 10 years. However, this type of weight loss surgery typically leads to less weight loss than other procedures, and requires several office visits to manage the gastric band and add or remove fluid.
What to Expect When You Have Lap Band Surgery
In order to qualify for lap band surgery, you must attend at least one information session and meet with a bariatric specialist to determine your eligibility. You may be a candidate if you:
Have a body mass index (BMI) higher than 35 or higher than 30 paired with comorbid conditions
Have failed to lose weight with diet and exercise alone
Do not have untreated psychological conditions, such as addiction or depression
Do not have a history of esophageal or gastric varices—enlarged veins in the esophagus or stomach
Do not have a significant history of GERD
If you receive clearance from the multi-disciplinary bariatric team, your procedure will be scheduled. This minimally invasive procedure takes only 30 to 60 minutes to complete, during which your doctor will place the inflatable band and attach it to the port using a small plastic tube.
After the procedure, you will need to visit your provider for follow-up care. Your care team will typically add fluid to the band through the port using a needle during each office visit in order to sustain your weight loss. If the band becomes too tight, fluid will be removed. You may also need frequent blood tests to check your nutrient levels, which can be affected by this procedure. Your physician may recommend incorporating daily multivitamins and other supplements into your diet.
Frequently Asked Questions