The Pharmacy Residency (PGY1) at Inspira Medical Center Vineland aims to prepare pharmacists to practice as highly qualified independent practitioners who are able to provide safe, consistent patient care in a variety of environments.
About the Vineland Pharmacy Residency (PGY1)
The postgraduate year-one Pharmacy Residency at Inspira Medical Center Vineland builds on the Doctor of Pharmacy degree. Residents who successfully complete our program will be skilled in diverse patient care, practice management, leadership, and education, and be prepared to provide patient care, seek board certification in pharmacotherapy, and pursue advanced education and training opportunities including post graduate year two residencies.
Inspira's Pharmacy Residency Program at Inspira Medical Center Vineland is accredited by the American Society of Health System Pharmacists (ASHP) and is Inspira's first and longest-standing pharmacy residency program. Our program is unique in that it offers two tracks for residents (Inpatient & Ambulatory). Required learning experiences are the same for all residents. The tracks are differentiated by the elective learning experiences only.
As a high reliability organization (HRO), Inspira Health is dedicated to maintaining safety for all patients, providers, and staff.
Vineland Pharmacy Residency (PGY1) Curriculum
Curriculum for PGY1 includes a variety of rotations across medical disciplines to give residents a breadth of pharmacy experiences.
The curriculum includes rotations in:  
Orientation 
Internal Medicine 
Transitions of Care 
Critical Care 1 
Infectious Disease 
Emergency Medicine 
Pharmacy Informatics 
Options for inpatient elective rotations include: 
Pediatrics/NICU 
Critical Care 2 
Advanced Topics in Critical Care (Critical Care 3) 
Antimicrobial Stewardship 
Options for ambulatory elective rotations include:  
Population Health 
Family Medicine Office
Retail Pharmacy 
Behavioral Health 
Oncology 
Longitudinal experiences for residents include:  
Pharmacy Administration and Leadership 
Pharmacy Staffing 
Additional educational experiences include:
Interdisciplinary Rounds (Intensive Care Units, Acute Care Units)
Pharmacokinetic Dosing and Protocols
Anticoagulation Monitoring
Development of Guidelines and Protocols
Pharmacy and Therapeutics Committee
Antimicrobial Stewardship Committee
Critical Care Committee
Patient Education
Vancomycin – Pharmacy to Dose
Health Fairs
Vaccine Administration
Dietitian/Pharmacy Dosing Protocol for Adult Parenteral Nutrition
Seminars and Lectures
Precept IPPE and APPE Pharmacy Students
Meds to Bed Program
Salary and Benefits
Pharmacy Residency Salary and Benefits include: 
Competitive Salary
Health Benefits 
Inspira Gym Membership
Paid Time Off
Meal Stipend 
Teaching Certificate Program  
Rotational Staffing 
Travel Expense Reimbursement to ASHP Midyear Clinical Meeting, Eastern States Residency Conference and NJSHP Annual Meeting
Learn More
If you would like more information about the Pharmacy Residency (PGY1) at Inspira Medical Center Vineland, please contact Jeanine Aussenberg-Rodriguez, PGY1 Program Director, at (856) 641-7554 | aussenbergrodriguezj@ihn.org.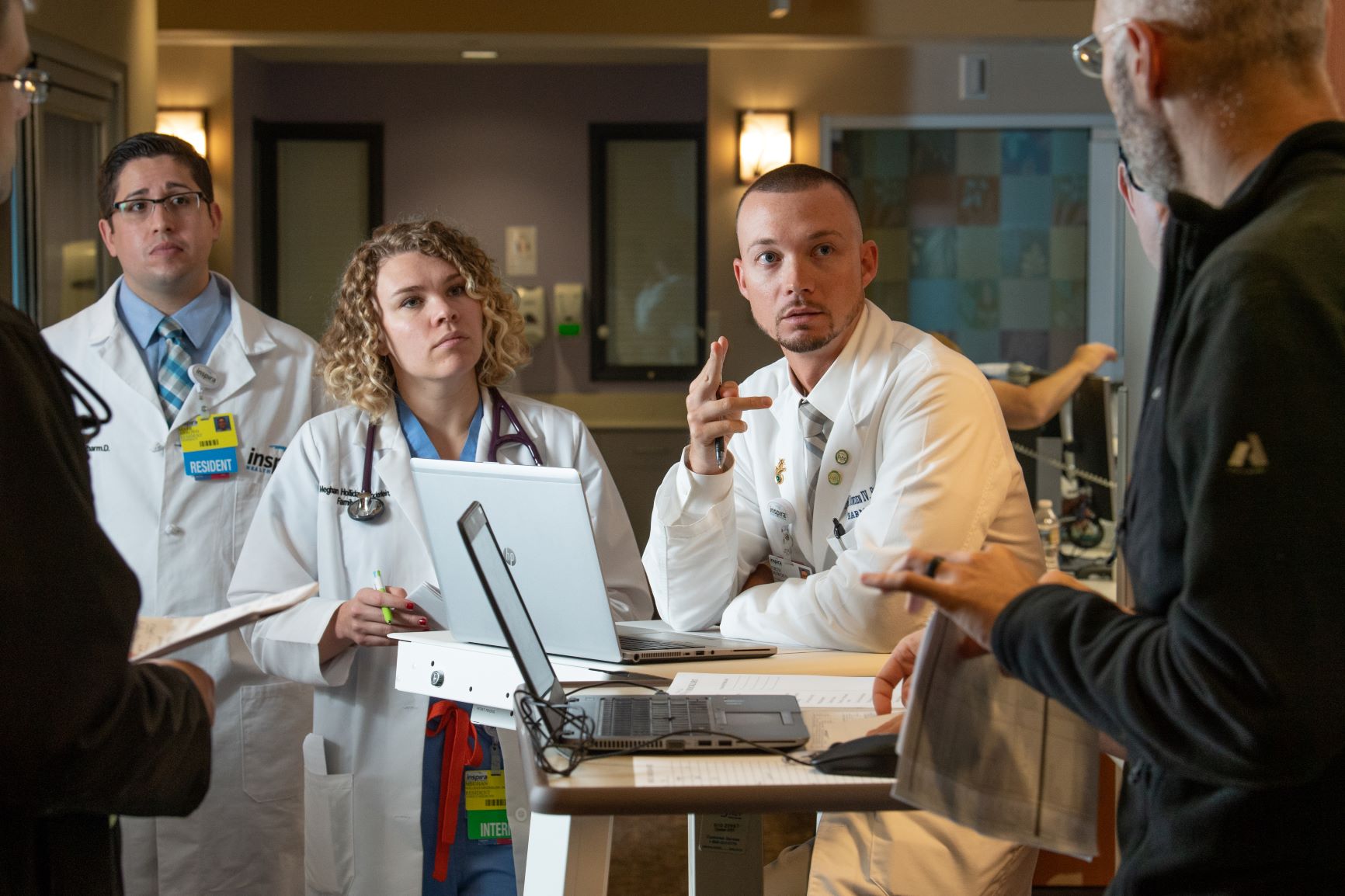 Why Choose Inspira for Your Residency