The Postgraduate Year One (PGY1) Pharmacy Residency at Inspira Medical Center Mullica Hill in New Jersey builds on Doctor of Pharmacy (Pharm.D.) graduate education to help clinicians develop the skills they need to become successful pharmacists. Residents who complete an accredited PGY1 Pharmacy residency are prepared for advanced patient care, academic or other specialized positions, a PGY2 program, and potential board certification in pharmacy.
What Makes Inspira's PGY1 Pharmacy Residency Unique
Inspira's PGY1 Pharmacy Residency provides residents with learning opportunities that integrate and incorporate various patient care experiences and advanced practice settings across South Jersey. With comprehensive curricula and dedicated faculty, our residency programs focus on industry-leading research, safe treatment methods and high-quality patient care.
The Department of Pharmacy Services at Inspira Medical Center Mullica Hill is dedicated to excellence in pharmaceutical care. Inspira's Pharmacy Residency offers a comprehensive program based in our state-of-the-art medical center in Mullica Hill, equipped with cutting-edge technology. We offer residents the opportunity to participate in an innovative pharmacy practice that includes several clinical settings, targeting inpatient practice and ambulatory care. Our medical teaching environment allows residents to develop strong interdisciplinary skills by working collaboratively with our medical residency program.
Message from Program Director
Curriculum
The PGY1 Pharmacy Residency offers a robust curriculum and access to experienced, supportive faculty in convenient locations throughout South Jersey. Each specialty program includes weekly didactics, attending and guest lecturers and clinical experiences.
PGY1 residency programs build upon Pharm.D. education to help residents develop the foundation of knowledge, skills and abilities needed to become competent and confident pharmacists in a wide variety of practice settings. Residents who complete PGY1 pharmacy residency programs are skilled in diverse patient care, case management and leadership and are prepared to provide patient care, seek board certification in pharmacotherapy and pursue advanced education and training opportunities, including PGY2 pharmacy residencies. 
Rotations in Clinical Practice
Required rotations in clinical practice include Orientation, Critical Care, Emergency Medicine, Internal Medicine, Oncology and Outpatient Infusion Center, Outpatient Retail Pharmacy, Population Health and Transitions of Care.
Four-week elective options include Administration, Cardiology, Critical Care 2, Emergency Medicine 2, Geriatrics, Infectious Disease, Internal Medicine 2 and Pain and Palliative Care.
Longitudinal Experiences
Pharmacy residents have many opportunities for research and presenting to medical residents. Other longitudinal experiences include ambulatory services, medication safety certification, pharmacy administration and leadership, a pharmacy scholarly project, a teaching certification and pharmacy services and staffing.
Inspira Committees
Residents have the opportunity to participate in several committees and Inspira-wide initiatives, including the Antimicrobial Stewardship Committee, Critical Care Committee, Medication Performance Improvement Committee, Opioid Stewardship Committee and Pharmacy and Therapeutics Committee.
one
Schedule at a Glance
PGY 1
Critical Care
Emergency Medicine
Internal Medicine
Transitions of Care
Oncology and Outpatient Infusion Center
Orientation
Population Health
Outpatient Retail Pharmacy
2 Elective Rotations
How to Enroll
For more information about the PGY1 Pharmacy Residency at Inspira Medical Center Mullica Hill, please contact Dr. Lauren Pino PharmD, BCPS, Pharmacy Clinical Manager and Residency Program Director, at PinoL@ihn.org or (856) 508-2129.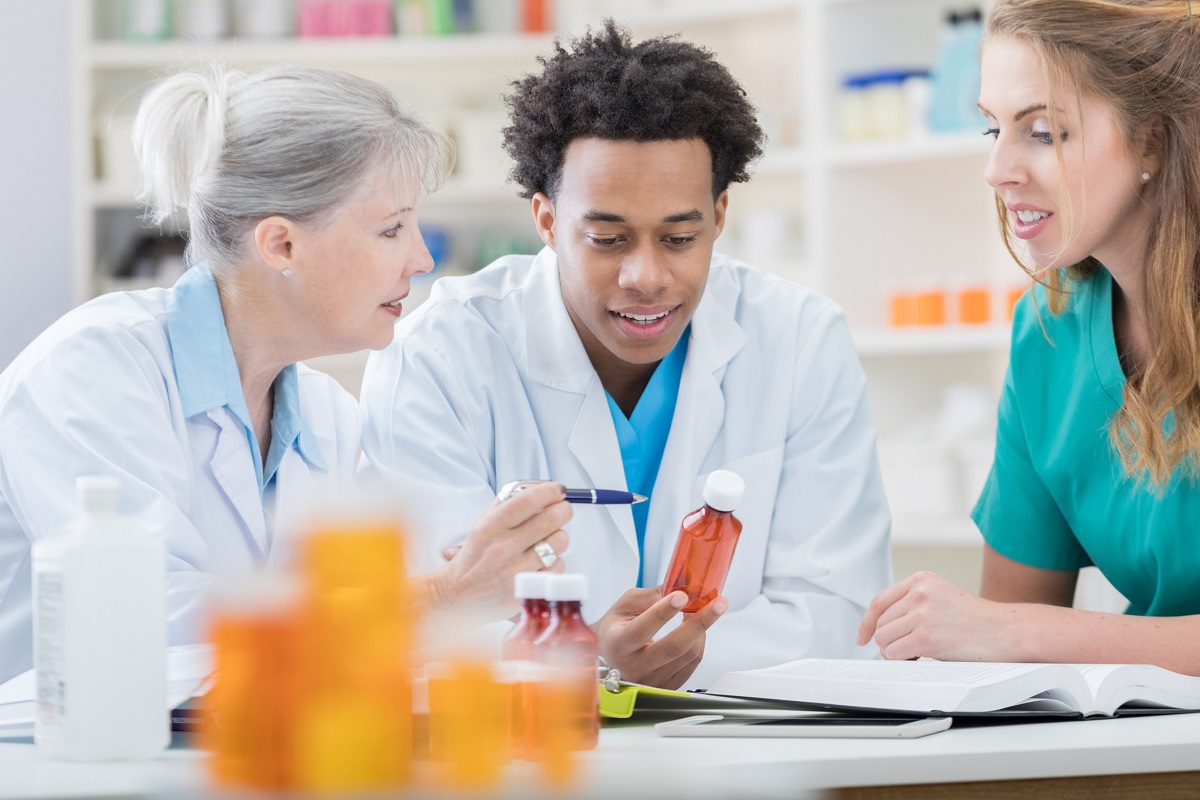 Frequently Asked Questions